Not Delia's favourite cheats – tempura batter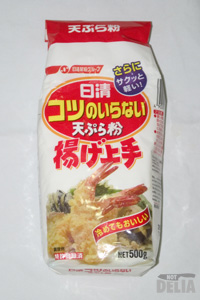 I do usually like to make all my own sauces and mixes from scratch, but sometimes it's just easier to cheat a little bit.  I have a few favourite cheats which I'll tell you about over the next few weeks.  One of these is tempura batter.  Sure, batter is easy to make but for the quickest, easiest, right-every-time light and crispy batter, I use a packet of batter mix.
This type of tempura batter mix can be bought relatively inexpensively from Asian food stores.  Simply put some of the mix into a bowl, whisk in some water, and hey presto – excellent batter.
I use this for all sorts of things – especially for fish and vegetables. Slices of courgettes are nice dipped in the batter and quickly deep fried in a wok. You can make some pretty good fish fingers with it too, and I'll be telling you about that very soon.