Not Boris Johnson's Homemade Chutney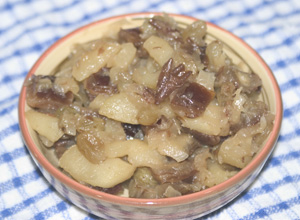 I follow Boris on Twitter because he's such a funny guy. He always makes me laugh. He posted:
"Due to popular demand here is the recipe for my homemade chutney. Apple, raisins, vinegar, sugar & onion. All in a pan. Cook till ready. Eat."
Cripes! That's a Not Delia kind of recipe. Let's have a go. 🙂
Normally you would expect to use a good cooking apple for this type of recipe but I couldn't get any and had to use a couple of Granny Smiths, so I decided to ditch the sugar. I'm also not very keen on raisins so I substituted some lovely sultanas for them. The sultanas had dried out a bit in the fridge so I rehydrated them with dark rum. (Any excuse.)
Ingredients
Veg oil for sweating off
1 medium onion, finely chopped
2 Granny Smith apples, peeled, cored and chopped
1 tbsp malt vinegar
a couple of handfuls (about 5 tbsp?) small sultanas
1 tbsp dark rum
Method
Put the oil in a suitable pan and sweat off the onions.
Add the apples and then the sultanas, including the rum they were soaked in. Keep cooking on a low heat until the apples start to melt down a bit.
Add the vinegar.
Cook until it's ready. And that's it.
The result had promise but, unlike Boris himself, it was rather bland. I wondered what you could use such a chutney for anyway, and thought that it might go nicely with any pork dish. Pork sausages, maybe?
Stage 2 – let's liven it up a bit!
With the mixture still simmering away gently on a low heat, I added a teaspoon of runny honey in an attempt to get a more caramelised flavour and texture.
Better but still bland. Added another splash of dark rum.
It's getting better, but there's still something missing. It's neither sumptuously sweet nor interestingly sharp enough. It's still too bland.
OK, no punches pulled, it's time to rescue this and to hell with following other people's recipes.
I soaked about half a cupful of sweet and succulent dates in another splash of dark rum for a couple of minutes, and then added that lot to the mix.
It's getting better, but still not sharp enough. Cue another tbsp of vinegar. Better. And another splash of rum for good measure.
I let this simmer for another few minutes and the result was pleasing. This would be great on a sausage sarnie. Cripes, rum chutney garnished with a little bit of apple and sultana!
(The photo at the top of the page only shows about half the quantity produced from the ingredients above.)
That was fun. I hope Boris does some more recipes soon!