Laurent Bernard's Hot Chocolate Recipe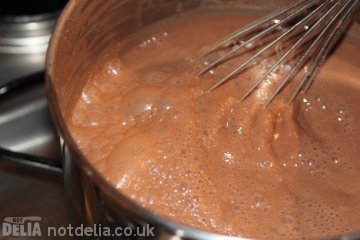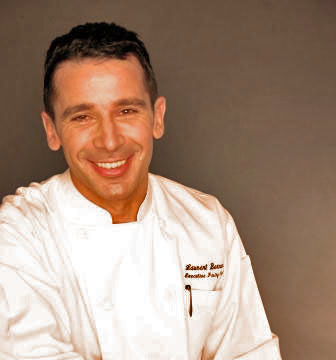 After we had visited Laurent at his chocolate factory, and tried his lovely hot chocolate, I'm afraid I pestered the poor man until he gave us his recipe. Well, it was the best hot chocolate drink we'd ever had, so you can't blame me for trying to find out how to repeat the experience at home.
Here's Laurent's recipe, followed by my attempt at making it.
Ingredients
1 l milk
50 g cream
300 g dark chocolate
Method
Bring the cream and milk to the boil then pour over the chopped dark chocolate.
Whisk vigorously, this step is important as it will make the hot chocolate better.
You can enjoy it straight away or leave it to rest for one day at 4°C which will make it even better. Just mix well to homogenise the drink and reheat to 60°C.
You can also infuse cinnamon, ginger or any spices in the milk before pouring over the chocolate to give a twist to your chocolate drink.
So, here goes – Not Delia's attempt:
A litre of milk – no problem. But what kind of cream? I used whipping cream because that's all I had in the house at the time. (Confused about cream? Read my article about it.) Our whipping cream has about 35% fat content, whereas the cream most readily available in France has slightly less at 30%.
And what kind of dark chocolate?  I had some rather expensive chocolate bars to hand, which I'd bought especially for Not Delia's chocolate fest, but when I saw that 300g were required I baulked at the thought of spending so much money just to make a drink. I had some caterer's dark chocolate, which is much cheaper (though inferior), so I used that.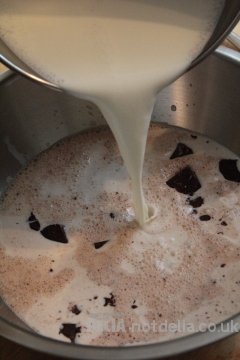 I was a bit surprised that the method called for the milk and cream to be poured onto the chocolate rather than the chocolate added to the pan – I'd have expected it to be the other way round so that the mixture could be kept hot and ready to drink. However, the chocolate seemed to melt easily enough even though the liquid's temperature rapidly descended from boiling point.
I gave it a good whisk, and then when the mixture was cool it went into the fridge as Laurent suggested…
…and then I brought it out again 24 hours later. As you can see, I whisked it again – I had to, as the mixture had partly solidified! – and you'll see from the size of the bubbles that the day's rest in the fridge has made a definite difference to the mixture.
And the result? It was good, a heck of a lot better than hot chocolate made with the powdered stuff, although it wasn't nearly as good as Laurent's. I can only assume that he uses a better quality of chocolate in his version.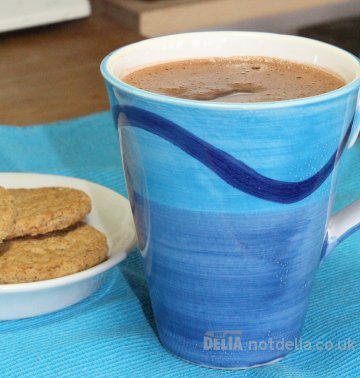 Anyway, you've seen how easy it is to make this delicious drink. I think we'll just keep the powdered hot chocolate for sprinkling on top of our cappuccinos in future.