Well, this is an easy recipe but it's not quick. You'll need to wait a month for the finished result. Have a go anyway – or wait and see how mine turn out first, I'll report back in a month. You know those little pink onions you get in Indian restaurants while you're waiting for your meal to arrive? This is how to do it.
The following recipe comes from the Sensational Preserves book (page 45) by Hilaire Walden with photography by David Gill. It contains recipes (and mouth-watering photos) for jams, chutneys, jellies and sauces in a variety of cuisines. Perhaps I'll do a review of the book later – meanwhile, let's get on with these little pink beauties.
Indian Pickled Onions
The red wine vinegar in this recipe turns the onions pink. To make peeling the onions a bit easier, cut off the root and tip ends, pour boiling water over them, and leave them for a minute or so, then drain and rinse quickly under running cold water. Use a stainless steel knife to avoid discolouration.
Ingredients
Makes about 1.1 litres/ 2 pints
450g/1 lb pickling onions
[I used a bunch of small Thai shallots. The bunch started off weighing over 500g but by the time I'd discarded the tops and roots and the skins, they only weighed about 350g]
50g/2 oz sea salt
[I had some pink Himalayan rock salt, which I'd bought as a curiosity, so I used that instead]
450ml/16 fl oz red wine vinegar
2 garlic cloves, sliced
2 dried red chillies
[My dried chillies were monster-sized but we like spicy food so I bunged 'em in seeds and all]
Method
Cut a deep cross from the top to the bottom of the onion but leave them attached to the base. [I didn't really "get" this as I'd already cut off the tip and the base. I didn't make any crosses.]
Dissolve the salt in 570 ml/1 pint water in a non-metallic bowl, then add the onions, cover and leave for one day at room temperature, stirring occasionally.
Drain and rinse onions thoroughly, then dry well on paper towels. [Dunno why you have to use paper towels, I just used a cloth tea towel.] Pack the onions into a 1.1 litre/2 pint jar. [No packing involved for me even though I was only using a 1 litre jar.] If there are too many onions, they may be reserved and used in cooking.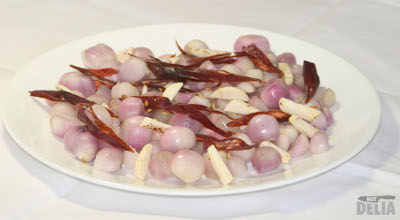 Mix together the vinegar, garlic and chillies and pour over the onions to cover them completely. [Nah. Don't do it that way, you'll get the chillies and garlic all at the top. Mix 'em in with the onions first. Then put in the jar. Then pour the vinegar over it.] If the onions float [mine didn't], put crumpled greaseproof paper in the jar to keep the onions submerged. Swivel the jar to expel any air, then cover with vinegar-proof lids and seal. Store in a cool, dark, dry place for 1 month before eating.
Hmm, maybe you'd better follow the instructions properly or wait a month to see how mine turn out.
Sensational Preserves by Hilaire Walden
Hardback, 144 pages
1995, Conran Octopus Limited
ISBN 1-85029-708-8
RRP: £17.99