Indian pickled onions – a second bite!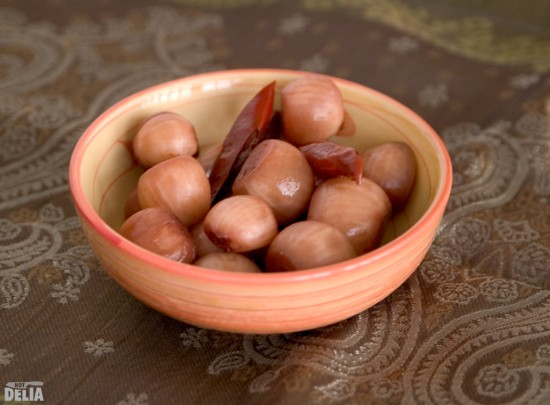 Back in March this year I wrote about how to make Indian pickled onions. I said then that they needed about a month to mature and that I would report back. Well, sure enough, we tasted them after a month and they were delicious – rather spicy, so go easy on the chillies if you're not so keen on spicy food. But I never got around to reporting back about them here on Not Delia, and then the onions were left to lurk in the storeroom fridge until we recently found them again.
The result? Still delicious, although a bit stronger in flavour than before. And, despite how long they'd been left, still crisp and crunchy the way a good pickle should be. I'd therefore guess that one or two months would be the optimal length of time to mature them. Now, there's a thought – if you made them now and packaged them attractively, they'd make an excellent edible Christmas gift.
Sensational Preserves by Hilaire Walden
Hardback, 144 pages
1995, Conran Octopus Limited
ISBN 1-85029-708-8
RRP: £17.99