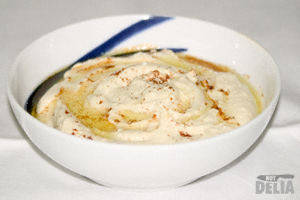 I love hummus but had all but given up on making my own, as it never seemed to be quite right. I thought I'd tried just about every variation on the theme – dried chickpeas soaked overnight, tinned chickpeas, taking the husks off the chickpeas, etc. You name it, I tried it.
However, when I saw a quite different recipe on Kano's blog (The Syrian Foodie in London), I decided to have just one last go at trying to make an acceptable home-made hummus.
The recipe is here:
Syrian Foodie in London: One Hundred and One Mezze: Hummus
This isn't normally how I would attempt hummus, but it seemed worth a shot. The recipe differs from the usual in several ways. There's a lot more tahini in it than I would normally use. You also need to blitz the mix in the food processor for a full five minutes. And finally, they use ordinary vegetable oil rather than olive oil. Given my past failures with hummus, I was sceptical to say the least.
But! Success at last! The result was superb. I'll never go back to shop-bought hummus again. I highly recommend this recipe to anyone who wants to make their own hummus. Try it. You won't be disappointed.