Anyone know what this is?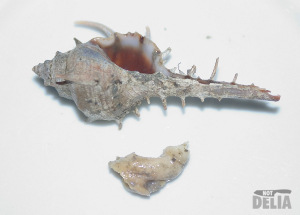 This unusual-looking creature was among the usual offerings – oysters, shrimp, etc – on a hotel buffet we visited recently. I didn't know what it was so, of course, I had to try it. I did try asking a few people what it was but got a different answer from each one. One fellow customer told me it was a "sea crab" but it doesn't look much like a crab to me. Maybe a sea snail? Maybe some kind of whelk? Apparently the Chinese enjoy these, so there may be a clue there.
I've tried searching to find out what it is, but had no luck yet. If you know what it is, please write in using the comment form. Thanks! Obviously I should have asked the staff at the hotel but the place was so busy, they were rushed off their feet so I didn't want to bother them with extra questions. Besides, I was more interested in getting back to the table and sampling some of the excellent wine we'd ordered.
Whatever it was, in my opinion it was more bother than it was worth as it took ages to get it out of the shell. And the result was a small (about half the size of a peanut) piece of something like tasteless rubber. See the photo above – the shell measures about two and a half inches (6cm) from tip to tip.