Not Delia's party food ideas
There's a lot you can do by just making a mini version of various things and then it miraculously becomes a canapé. So here are my suggestions and recipes for some party foods.
Breadcrumbed goujons of fish – Ideally these should be served hot after they've been freshly made. You make them a little ahead of time and keep them warm in the oven.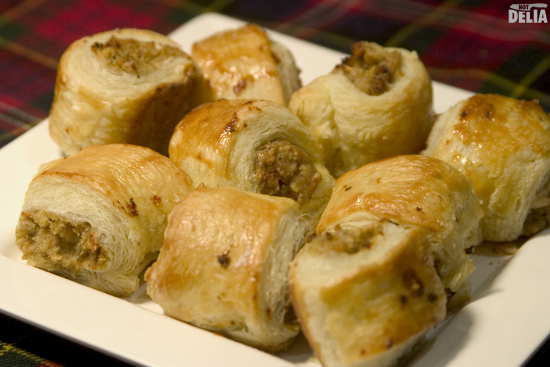 Cocktail sausage rolls – These are really easy to make! All you need is sausages and a packet of puff pastry, then it's not much more than an assembly job. Yeah, I know you can also buy little sausage rolls but home-made always looks nicer, even if you did cheat by buying the sausages and the pastry.
When we were in Gozo recently, we attended a party where the host had created very attractive platters of local snacks. We called them Gozitan party platters. You can adapt the same idea to suit what's available in your locality and make similar plates of party food to hand around.
Doesn't everyone like Yorkshire pudding and sausages? Put the two together and you get toad in the hole. Well, it might seem a bit odd to go handing round full-sized toads in the hole at a party, but you could do mini ones! Most people love these and they disappear fast.
How about making some crumbed mussels? They're easy to make and once that's done they only take about five minutes under the grill. You need to serve these hot and fresh so they're probably not such a great idea if you want to be making things ahead of the event.
Pigs in blankets – OK, so it's sausages again, but if you serve these up on cocktail sticks I can guarantee that they'll be scoffed up pretty quickly.
Smoked salmon on tiny scones is a good one to make a couple of hours ahead. It looks quite posh too, especially if you top it with caviare.
Onion bhajis are nice to hand around and are usually enjoyed by most people. Serve them with a dip or two. (Vegetarian)
One of my favourites is tostaditas with salsa topping. These are quick and easy to make, but you'll need to assemble them at the last minute so they don't go soggy. (Vegetarian)
You can also make things like pizza. Make it on a rectangular baking tray and serve it up in small squares. This can be served hot or cold. Same with quiche. These can be vegetarian or not as you choose.
If you need yet more ideas for party snacks then you could try the book Canapés by Eric Treuille and Victoria Blashford-Snell. I use that one a lot for ideas.
So, have a great party and please write in if you have any other ideas for party snacks.