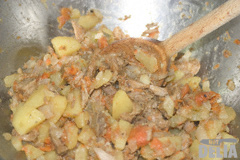 My previous posting was about making quick and easy shortcrust pastry. Now I'm going to use it to make some meat and potato pasties.
Traditional Cornish pasties are made with raw ingredients and usually with turnip or swede rather than carrot – that's why these are called Not Cornish Pasties.
I'm cheating because I'm using cooked ingredients of what I already have. You can use pretty much anything you fancy, and simply wrap it in shortcrust pastry.
Ingredients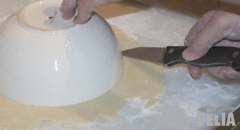 Shortcrust pastry
(You can find a quick and easy recipe for shortcrust pastry here)
some diced cooked stewing steak
Diced cooked potatoes
Sweated-off onion
(See the glossary if you're not sure how to 'sweat off' onions)
Diced cooked carrots
Salt and pepper
Egg or milk for glaze
Quantities? If you like it meaty, make the mix meaty… otherwise don't. The idea of this one is to use up leftovers or whatever happens to be to hand at the time. I can't imagine anyone going out specially to buy the ingredients for a simple meat and veg pasty. The pastry is easy to make so it's a quick cheap meal.
Method
First make the pastry – it can be chilling in the fridge while you assemble the filling.
Assemble the filling and season with salt and pepper; you could add herbs such as parsley too, and maybe a splash of Worcestershire sauce. Make sure it's tasty before going ahead to make the pasties. Also make sure it's cold. Don't put a hot filling onto your chilled pastry.



Roll out your pastry and cut it into a circle. Place the filling on it.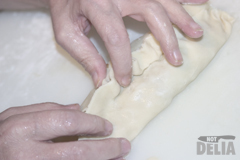 Rub a little water round the edge – this helps to seal it. Fold up and press the edges together. Crimp the top. I don't usually go in for crimping things but it definitely looks better for a pasty. Glaze with beaten egg (for a golden look) or egg and milk, or even just milk. I only used milk for mine.



Cook in a medium hot oven until the pastry is cooked and the filling is hot, maybe about 30 minutes. (If you don't have a temperature probe, you can use a skewer or something similar. Insert the skewer and feel how hot it is when you pull it out.)



These can be served hot or cold. I like them cold with HP sauce.