Dates with cream cheese and chives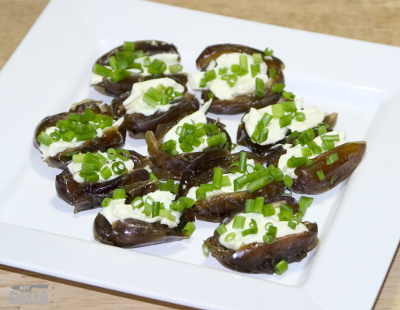 Here's an idea for a quick and easy party snack, or just have them yourself if you fancy it.
All you need is dates, cream cheese and chives. Split the date in the middle and remove the stone, spoon in the cream cheese as a filling, and top with snipped chives as a garnish. What could be easier?
I decided to do a little bit of background reading about dates. Apparently the scientific name is Phoenix dactylifera and they are thought to originate from lands around the Persian Gulf. You can read more about dates and date palms on Wikipedia.
Yum, I love dates (the edible kind – no, not in a Hannibal Lecter way!). My favourite is the Medjool date – the "large, sweet and succulent" ones. When I was a kid we used to get the "Eat Me" ones at Christmas but never during the rest of the year. How about you? Are dates a once-a-year treat or do you just have them when you feel like it?