Not Delia's Poll 6 – St Valentine's Day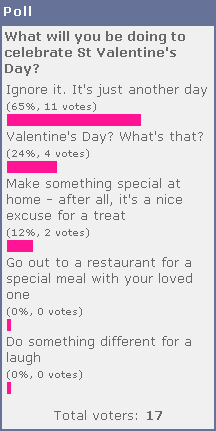 St Valentine's Day is a big event in the foodie calendar, and a date on which every half-way decent restaurant will be fully booked. Most chefs choose to stay at home – if they're not working.
Nevertheless, it didn't seem to be such a big event with Not Delia's readers. Only 17 of you could actually be bothered to vote, and virtually all of you said you had nothing planned. Four of you even expressed ignorance as to what Valentine's Day was all about!
So why the apathy, I wonder? Are we all jaundiced by the rampant commercial exploitation? Is it a side-effect of the economic hard times? Or are Not Delia's readers just a bit more world-weary and cynical than your average Jo and Joe Public?
To be honest, I wasn't all that excited at the prospect either – I bought a red heart-shaped presentation plate ready to create something for the occasion, and then in the end I never got round to it. Maybe next year I might feel a bit more inspired.
In the meantime, if you're one of the two people that did have a special meal, or if you missed the poll but not the event and have something to say, we'd love to hear – please comment!