This is probably the most commonly used knife in the kitchen, which you can use for all sorts of things. It's a general purpose knife used for cutting vegetables, and for some meat preparation (don't try to cut through bones with it, though). This is the knife you'll use to make your brunoise and juliennes and all the various other vegetable cutting techniques. (More about that later.) And this is the knife you'll take to the desert island with you, if you're only allowed one knife.
Chef's knives usually come in two sizes, 8" and 10" blades. I have a 10" chef's knife which I rarely use and a fairly good selection of 8-inchers. That's not because I'm a wimp. Hey! You know that Not Delia isn't wimpy in the kitchen, it's just personal preference and what works best for me. The 10-incher might be handy to stab a burglar or something, but in my small hand it's more like a sword than a knife.
Here's a photo of my chef's knives.
From left to right: Twin Fish Japanese chef's knife, Cooks & Co Japanese chef's knife, Sabatier 8" chef's knife, unbranded 8-incher that came out of a boxed set I bought from Nisbets donkey's years ago, Cooks & Co 10" chef's knife.
Yep. No Global or Henckels there. Most of these knives were bought many years ago when I could only have dreamed about owning one of the top brands. But the truth is that they've served me well for all this time and now that I probably could ask for extra pocket money to buy a Henckels knife, I've never really felt the need to. (Yet! Now I want one. LOL!)
By the way, knives of the shape which I refer to as Japanese chef's knives are sometimes called santoku knives.
Hold the knife properly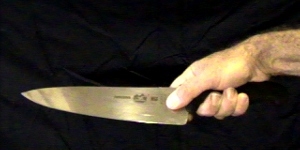 How to hold a chef's knife: the classic professional grip – thumb on one side of the blade, index finger on the other, and the other three fingers wrapped round the handle (Photo: Mike Hayes)
The first thing to do is to learn to hold the knife properly.
This photo shows the classic professional grip which is taught in most books about knives and is also prevalent advice on many culinary websites. I must confess that I didn't learn this classic grip at chef school and I don't hold mine like that at all. (Blush) I grip mine around the handle with all four fingers and thumb. Each to their own, I suppose, and you can do what you feel comfortable with but received wisdom says that the classic grip is the "correct" way to do it.
OK, so now we've got the right knife for the job, and you're holding it properly. What's next? Cutting things!