Chef's knife and utensil set in travel case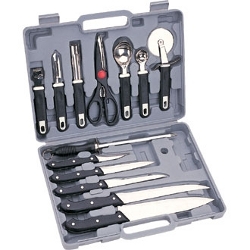 I was browsing around Nisbets website as I often like to do, when I stumbled upon this fantastic bargain – a whole set of knives and other bits and bobs all for only £24.99! Unbelievable value!
This is what you get for your money:
5 stainless steel knives: 8″ cooks, 8″ carving, 5.5″ boning, 5″ utility and 3″ paring
8 utensils: sharpening steel, pizza cutter, melon baller, ice cream scoop, scissors, apple corer, peeler and zester
Tough, wipe clean injection moulded case with snap-lock catches
I bought one of these sets years ago. I already had plenty of knives but I'm very possessive of them and don't like anyone else using them. Therefore, when we were posted to India several years ago, I bought this cheap set intending it for use by any kitchen staff we might have. It's now just over eight years later and some of these knives are still in daily use. Not by staff either, but by me. Some of them I use in preference to more expensive knives. The paring knife for example is, in my opinion, a better knife than the more expensive Sabatier paring knife I have. You can see some of my knives here: the paring and carving knives both came from a set identical to the one pictured above.
We've all heard the saying "Buy cheap, buy twice", but that's simply not the case with this little beauty. I can hardly believe the set I have is already over eight years old. Buy one today! (It might also make a good gift for the foodie or aspiring cook in your life.)
Buy the Nisbets chef's knife and utensil set in travel case
(UK delivery only)
Nisbets only deliver within the UK. If you live outside the UK, or want to shop around first, why not have a look at Not Delia's Amazon Cook Shops instead?
Not Delia's Cook Shop: UK and EU (prices in £)
Not Delia's Cook Shop: non-EU (prices in US $)