Butter Chicken – Photo Essay
OK, I've given you the ingredients and the method. Here are the photos of my attempt: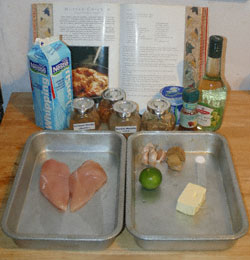 First I assemble all the ingredients. There's rather a lot because the marinade is fairly complex.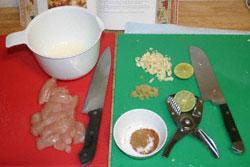 Next I prepare the chicken and the ingredients for the marinade.
Chicken is mixed in with the marinade ingredients.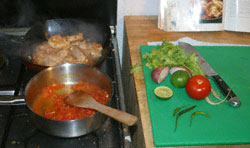 Here's the chicken pieces cooking and the tomatoes slowly melting to a pulp. I've also got the kachumber ingredients ready. There are cachumber [sic] recipes in this book but I prefer to do it my own way.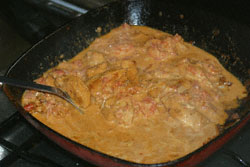 Now I've added the tomato mixture to the chicken in the frying pan.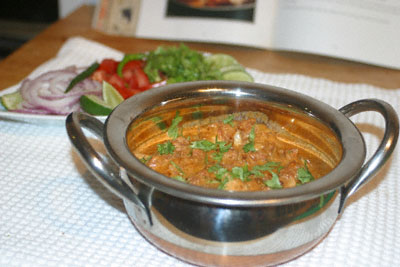 The finished dish. I threw on a bit of chopped coriander to make it look more attractive.
Well, it wasn't Gourmet Express (Ainsley does a version of chicken tikka masala in minutes in that book – very nice too) but the quality and complexity of flavour of this butter chicken was a bit of a step up from that, so, yes, it was worth the effort. It's a good book, but not one of my top ten. I'm still keeping my eyes peeled for a better one.
PS: One of these days I'll show you how to make an Indian restaurant curry. It's not for the faint-hearted as it takes hours of preparation. Worth it, though.
50 Great Curries of India
Camellia Panjabi
Paperback, 192 pages
1995, Kyle Cathie Limited
ISBN 1 85626 186 7
RRP: £9.99
Read my review of 50 Great Curries of India