It'll soon be Pancake Day so let's have a go at making some pancakes. Here's a quick and easy recipe for buckwheat pancakes.
I usually fill these with a savoury filling such as bacon, mushroom and leek in a creamy sauce. Let's make the pancakes first.
Ingredients
(makes about 8 pancakes depending on the size and thickness)
50g (2 oz) buckwheat flour
50g (2 oz) plain flour
pinch of salt
1 egg, beaten
300ml (½ pint) milk
1 tablespoon oil or butter
Method
Place the flours and salt in a bowl and make a well in the centre. Add the egg and the oil, and half the milk and whisk until smooth. Then gradually pour in the remaining milk, whisking all the time, until you have a smooth batter.
Cook's tip: If you've got lumpy bits you can rescue it by pouring the batter through a sieve to remove the lumps. Best to avoid getting lumps in the first place if you can. The batter should be approximately the consistency of pouring cream, as you can see from the photo.
Now melt a small amount of butter or oil in an omelette pan, or suitable small frying pan. When the pan is hot, pour some batter in and give the pan a gentle shake to cover the bottom of the pan with the batter.
Cook's tip: For lovely thin, lacy crepes, you'd want to use as little batter as possible to cover the bottom of the pan. I'm going on to make pancakes with a bacon, mushroom and leek filling so I want my pancakes to be a bit sturdier than that.
Now just let the pancake cook for a couple of minutes.
Cook's tip: You can tell by looking when it's ready for flipping. It's gone lacy at the outer edges and the inner areas are starting to show bubbles. If you poke about at it too soon, you'll destroy it.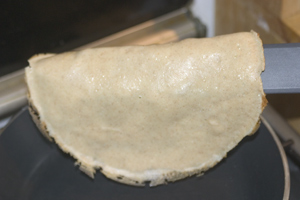 Now, remove the pan from the stove and with a casual flick of the wrist flip the pancake several feet in the air so that it lands the other way up exactly in the right place in the pan. Yeah, it's that easy.
Cook's tip: You can use a palette knife to carefully loosen the pancake so you can turn it over. If it appears soggy, then it's not ready. If the pancake is ready to be turned over you'll find it very easy to lift it on a palette knife and turn it over. If you don't have a palette knife use the nearest thing you have to one – perhaps a fish slice. Or you'll just have to risk tossing it. It's not so difficult to toss a pancake after a few hundred practice goes.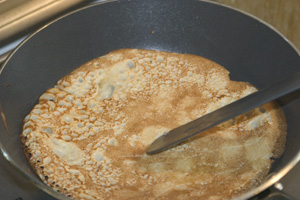 Now you just have to cook the other side.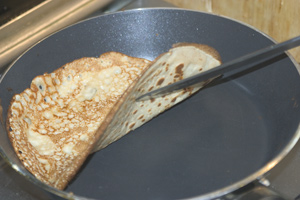 And here it is.
You can freeze these but be careful to separate them with layers of Klingon or similar. You don't want them to stick together. Now all you have to do is decide on your filling. In case you're stuck for ideas, here once again is the link to my recipe for bacon, mushroom and leek in a creamy sauce.