OXO Good Grips vegetable peeler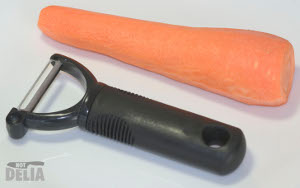 This is a very handy little piece of kit. I never use a peeler for spuds, it's quicker and easier with a paring knife, but when it comes to straight-shaped vegetables, there's nothing to beat a good Y peeler (also known sometimes as a Swiss peeler). The version from the OXO Good Grips brand is excellent. Mine has done sterling service for many years and I highly recommend it to you.
It's not just for peeling things like carrots and parsnips, though. You can do lots of other things with it too. Such as courgette salad or Parmesan shavings.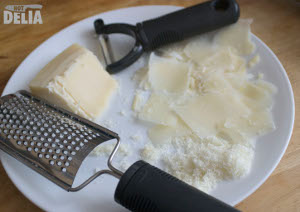 It will come as no surprise to you to know that Nisbets, my favourite catering equipment supplier, is selling them – only £4.29. (UK delivery only)
And while you're there you might also like to buy the OXO Good Grips grater, which is pictured along with the Parmesan cheese and the peeler. (£5.49)
You really can't go wrong with good kit like this.
Nisbets only deliver within the UK. If you live outside the UK, or want to shop around first, why not have a look at Not Delia's Amazon Cook Shops instead?
Not Delia's Cook Shop: UK and EU (prices in £)
Not Delia's Cook Shop: non-EU (prices in US $)