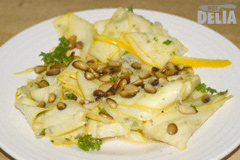 This is a very quick and easy salad to put together. As well as looking very attractive, it's tasty too. You could serve this along with other mezzes or tapas or as a salad in its own right.
Ingredients:
(Serves 2 as a side dish)
1 courgette (zucchini)
herbs (whatever you fancy)
a small handful of pine nuts
vinaigrette/dressing
lemon/lime juice if desired
Method
Toast the pine nuts. (I rubbed a little olive oil in a pan and "toasted" mine that way. Unfortunately I forgot about them so the ones in the picture above are, erm, a little bit well-done.)
Thinly slice the courgette lengthwise. I used a Y-shaped peeler for mine as my mandoline is in storage elsewhere. Make the slices as thin as you can. For my first courgette salad (pictured above) I used yellow courgettes because that's what I happened to have.
Chop the herbs. I used coriander but if you have parsley or basil or anything else suitable, it's nice to experiment.
Put the courgette and herbs into a mixing bowl.
Make the vinaigrette. Put two parts oil, one part vinegar, salt and pepper into a small jar and shake to emulsify. Taste and adjust seasoning or add more oil or vinegar as required. I often use olive oil and red wine vinegar for my salad dressings but this courgette salad is nice with a wine wine or cider vinegar dressing.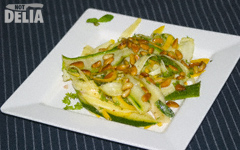 Pour the dressing over the salad and mix well. Turn out onto a plate. Sprinkle the pine nuts on top. I also squeezed a little bit of lime juice on for an extra zing to the flavour.
We liked this salad so much that I made it again a few days later. This time I used yellow and green courgettes and managed not to overdo the pine nuts…