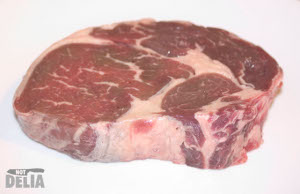 The rib eye steak is a beef steak cut from the rib of the animal. As you can see from the photo, it's fattier than some other steaks, but this "marbling" makes it extra tender and juicy. It's also full of flavour.
The marbling makes this cut of meat particularly well suited to dry cooking methods. I like to pan fry mine, and serve with a savoury butter or creamy sauce. You can also use it to make teppanyaki-style steak, Thai beef salad, and lots of other things. I'll be adding recipes for some of these dishes very soon.
A rib eye steak usually weighs about 300g (10 oz).