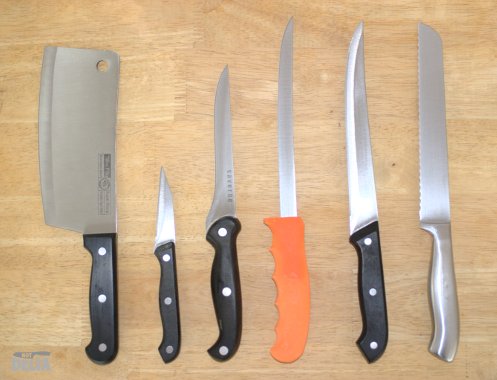 As we know, it's important to use the right knife for the job.
We've already discussed the main knife in your armoury – the chef's knife, which is also sometimes called a cook's knife, or if it's Japanese style, which is very popular these days, a santoku knife.
In the photo above you can see a selection of some of my knives. We'll go through them from left to right…
This is a heavy duty butchery knife, and mainly used for chopping through bones. Mind you, I've seen some chefs in Asia use it in the same way as a chef's knife for veg prep. (I wouldn't risk it.)
A small knife used for peeling smaller round vegetables, such as potatoes, and for turning vegetables. Note that for straighter vegetables, such as carrots, you'll be better off with a peeler.
This is a butchery knife with a strong rigid blade which won't bend or break easily. It's used for removing bones from large joints of meat and poultry.
Used in fish preparation, it has a very sharp flexible blade and is used to fillet fish and remove skin from fish fillets.
Funnily enough, this one is used for carving meat and poultry, eg large joints, turkey. It's also used for slicing a side of smoked salmon.
Similar to a carver but with a serrated edge. It's used for slicing bread. Note that if you're preparing sandwiches, you should always cut them with a serrated blade otherwise you run the risk of not getting nicely cut sandwiches.
---
If you can't afford to buy all these knives at once, the main three knives you need are the chef's knife, the paring knife, and the bread knife. A cheap option is to buy a boxed set from Nisbets. I've recommended some on the introductory page of this knife skills course.