Years ago Marks & Spencer used to do a wonderful ready-meal which consisted of a baked potato with a creamy mushroom filling. All you had to do was heat it up in the microwave. Maybe they still sell these. Does anyone know?
At the time, I was lucky in that the boss had provided us with a microwave in the office, so the M&S potato became a frequent lunchtime meal for me.
For some reason I recently remembered about these tatties and wondered how I could recreate them at home. A bit of searching on the Internet quickly revealed that this type of filled potato is usually referred to as a twice baked potato and there are some pretty yummy recipes out there.
For those who like to measure things, there are two very good recipes on SimplyRecipes.com. One is for cheddar cheese and bacon, the other for blue cheese and chives. There are also some good photos of how to make the dish on there.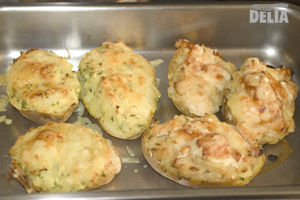 Being a follower of the bung-it-in style of cooking, I just bunged stuff in. I made two versions: one with cheddar cheese and parsley (chives might have been nicer but I didn't have any); and one with a streaky bacon and mushroom in a creamy sauce. Here's a photo of them coming out of the oven.
As you can see from the photo at the top of the page, I served one half potato of each version on a wooden platter, accompanied by a simple salad dressed with vinaigrette and topped with shavings of Parmesan cheese.
This is a very easy and tasty snack to make. It's not so quick if you bake the potatoes in the oven but you can cheat and speed things up a bit in the microwave.