by Mr Not Delia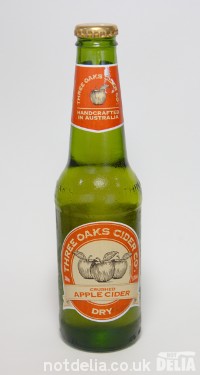 Think of cider, and if you're British, your mind is irresistibly drawn towards south-western England – above all, Somerset and Herefordshire, home of most of the country's cider production.
OK, so the Irish brew it too – Magner's has made a name for itself in recent years. And if you're a bit more cosmopolitan in your outlook, perhaps you'd be aware of the French version cidre – we have happy memories of our bags being opened by a retired Breton gendarme. Yes, he was carrying out a search (old habits die hard, perhaps?) – but making sure that we were carrying the bottles he'd virtually forced on us. (It was all we could do to tell him that we were up to the duty-free limit, which still existed in those days.)
Probably one of the last places you'd think of looking for cider would be Australia. But it does exist, and you can see the proof in the picture on the right.
Described as a "handcrafted, crushed apple cider", Three Oaks Cider is made by the eponymous company in Salisbury in South Australia's McLaren Vale just south of Adelaide, a part of the world that's far more famous for its wine production. Indeed, the website says that "the best ingredients are sourced from around the world to make this unique product" – suggesting that at least some of the apples used aren't grown locally. So this is a double surprise given Australia's agricultural diversity (apples are among the country's largest fruit crops) and the dominance of wine production in the McLaren Vale area.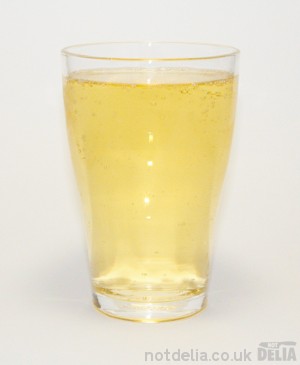 The company produces three varieties of cider and one of perry (although they call it "pear cider"). As you can see, we sampled a bottle of the dry cider, that being our preference. Not Delia's the big cider drinker in this household, so naturally she scoffed most of it, though she did deign to leave me the mouthful or so that didn't quite fit in the glass.
We both agreed that it was indeed dry – actually, it was quite sharp, to the point of brashness. Light and natural-tasting, though, with none of the chemical taste you often get with cheap mass-produced cider. And it certainly tasted of apple – their website suggests Granny Smiths in the primary aromas, describing the palate as "complex and well balanced with crisp acidity and a clean finish". Yep.
It's a refreshing drink and one you could quite happily choose on a warm afternoon to slake your thirst. Worth a try if you ever do happen to see it around, although it doesn't seem to have travelled much outside Australia.