Curry Kits – a must-have for any curry lover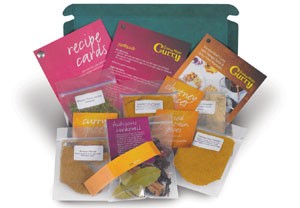 Mmm, curry. We love the stuff here on Not Delia. Have you seen our "How to make a restaurant curry at home" series? You can start here with the introduction. It's well worth the effort, but a bit of a faff. 
Good news! Now it's all got easier, thanks to our friends at Wish.co.uk. Wish is primarily a gift site which sells various experiences and gifts. But I didn't see any rules on there to say that you can't buy a gift for yourself! So, if you're a curry lover, then you should check out their curry kits. And if there's a curry lover in your life, what could make a better gift than this?
What is it? There's a choice of two – a three-month subscription for £20 or a six-month subscription for £40. Both come with free delivery (UK only). Let's have a look and see what you get for your money.
Each month they send you a curry recipe plus all the spices necessary to make it. Now you don't need to go traipsing round the shops buying turmeric here, garam masala there, and then letting these half-used packets languish in the kitchen cupboard for months after. No more measuring out a teaspoon of this and an ounce of that. It's all done for you. You don't even need to go shopping or hunting for recipes. It just pops through your letterbox each month. Simple! (And so much more satisfying – and cheaper – than ordering a take-away.)
Then you use the recipe and the spices to make a delicious curry. How's that for an easy way to win friends and influence people?
Go on. Buy a curry kit. You know you really want to.