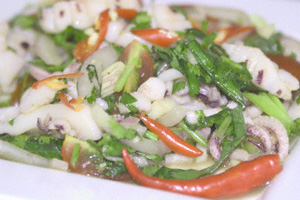 This is the sort of dish I can knock out without thinking about it, which I did. Then I dutifully photographed it. And then after the salad had been scoffed I realised that, as usual, I had just bunged everything in and hadn't a clue about what quantities I'd used.
I scoured my cookbooks for a suitable recipe but didn't find anything that particularly appealed. I did, however, find a pretty good video on You Tube – so why reinvent the wheel?
I followed a broadly similar method to the one shown in the video, with a few differences:
I scored the criss-cross pattern onto the squid before cutting it into pieces.
I stir fried the squid in garlic for a few minutes rather than boiling it in water.
I used a few ingredients which weren't included in the video:
Chinese celery, sliced red chillies, quartered queen tomatoes (you can use other tomatoes if you can't get that specific type where you live).
As with most Thai cooking, every cook has their own way of doing things. I learned my version from eating spicy squid salad in Thai restaurants in Thailand, so I think it's fairly authentic.
Whichever version you choose, I hope it will be aroi (delicious)!