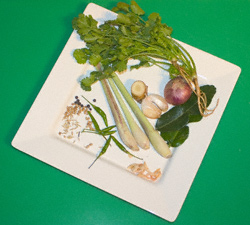 There are as many different recipes for Thai green curry paste as there are people who make it. There are no hard and fast rules – just a few basic principles and common ingredients. The picture on the right shows the basic ingredients which I used. (The list of ingredients is below along with the method.)
I think sometimes people are afraid of Thai cooking when it's new to them and they expect it's going to be very complicated and they'll need to follow the measurements and instructions to the letter.
They're often also hampered by not ever having had the "real thing". So-called Thai food served in the West often bears very little resemblance to real Thai food. And I've seen some appalling recipes in well-respected foodie magazines. BBC Good Food magazine once had a recipe for what they called Thai curry – "Easy! Only five ingredients!" What a disgusting hash that particular recipe would have made. (I wrote to the then editor, Orlando Murrin, about it and complained – but that's another story. LOL!)
Just relax and do your own thing. If you like the taste of coriander (cilantro), add more; if you don't like your food spicy then cut back on the chillies. It's your food, you can make it to suit your own taste!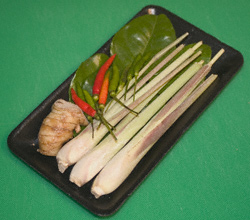 These ingredients are so common in Thai cooking that the Thais make it really easy for you by selling packets of lemon grass, lime leaves, chilli, and galangal all together in one inexpensive packet.
If you're not lucky enough to be able to do your shopping in Thailand, your best bet is probably a specialist Asian store. We were regulars at Wing Yip when we lived in London. Supermarkets seem to charge a fortune for "exotic" produce such as a small bunch of coriander.
Here are my ingredients, herbs and veg all chopped and spices toasted, ready to go.
Ingredients
1 tbsp fresh coriander (including the roots)
6 small green chillies, chopped (we like spicy food – use fewer and/or de-seed them for a milder flavour)
1 Thai shallot or a very small red onion. chopped
2 cloves of garlic, chopped
1 small piece of galangal (or ginger if you can't get galangal)
3 sticks of lemon grass, chopped
4-6 lime leaves, chopped
¼ teaspoon coriander seeds, toasted
a few black peppercorns
a few cumin seeds, toasted
a few dried shrimps (it's supposed to be shrimp paste, but I'm not a fan of that stuff so I just use the dried shrimps instead. For a vegetarian version I guess you could leave the shrimps out altogether.)
Enough vegetable oil to help you blend the mixture into a stiff paste – about 3 tablespoons.
Method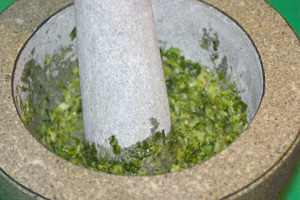 "Toast" the spices – basically this just means put the peppercorns, coriander seeds and cumin seeds into a dry frying pan and dry fry them for a few minutes.
Meanwhile you can be chopping up the herbs and the shallot/onion.
Bung everything into the mortar and pestle, and apply some serious elbow grease. Add a little vegetable oil to your mixture to help you make a paste.
And that's it! What could be simpler?
However, even a Thai food enthusiast like me doesn't always have the time (or patience!) to blat away all day with the mortar and pestle, so once I've got it paste-like by hand, I usually finish it off with the hand blender.
A lot of recipes tell you to just bung everything into a blender, and many people do it this way, but it's just not the same. The blender tears the ingredients and doesn't release the aromatic oils in the same way. The flavour will be inferior. That said, I have sometimes made a pretty good curry paste by starting off using the food processor and then switching to the hand blender towards the end.
Here's the finished Thai green curry paste. You can store this in the fridge until you're ready to use it. Personally I think there's nothing to beat making the curry paste freshly each time you're making a Thai green curry.
I can imagine that some of you might be thinking that's all a bit of a faff, because the ingredients are hard to find and/or expensive, plus the process itself can be a labour of love (just like making your own bread!).
Is there any way to cheat? Yes, of course. You can buy a commercially made packet of Thai green curry paste. Many of them are very good. Do try to get one which has been produced in Thailand, though. Some of the gunk sold in jars in supermarkets bears no relation at all to a real Thai curry paste.
Packets of curry paste, like the one pictured, can be a real time-saver. They're good. But they're never quite as good as the paste you'll make yourself. Why? Because they tend to use more of the cheaper ingredients to make the bulk of the paste, whereas you'll be making your paste as fragrant and aromatic as you can. The choice is yours.
PS: Here's a link to my recipe for Thai green curry with pork.