Temple's, Soi 11 Sukhumvit, Bangkok
Citadines Sukhumvit 11 Bangkok
22/22 Soi 11
Sukhumvit Road
Klongtoey Nuea
Wattana
Bangkok 10110
Opening hours: 6am till close, whatever that means.
[Update April 2012: now closed.]
Temple's Bar in Soi 11 Sukhumvit – on the ground floor of the Citadines "aparthotel", 500 metres into the soi from Sukhumvit Road – is billed as an Irish bar. Regular readers of my BritishExpat.com site's Malaysia pages will know that Mr Not Delia and I aren't exactly averse to Irish bars, even if they tend towards the "Oirish" plastic pub sometimes. So on one of our visits to Bangkok, we thought we'd wander down to have a look.
On first impressions from the outside, it doesn't look at all Irish – lots of neon, no Irish paraphernalia other than the odd Guinness advert, and the serving staff appear to be from Dhaka rather than Dublin. (Well, somebody did write once that the Bengalis are the Irish of Asia, but even so…) Still, having come so far down the road, we thought we'd at least have a pit-stop and see what they had to offer.
Hmm, the menu doesn't look at all Irish – except perhaps for a couple of token nods like Beef in Guinness Stew.
Neither of us saw much point in ordering Guinness, which is comparatively expensive anywhere but even more so in Thailand. So we ordered two pints of Tiger. The first two pints that came out tasted like Beer Chang – they certainly weren't Tiger. We pointed this out, and the waiter very promptly replaced them with no quibbles. The replacements seemed to be OK.
We weren't hugely hungry so ordered one fish and chips to share, which they were happy enough to do. They brought out Heinz tomato ketchup, but no salt or vinegar.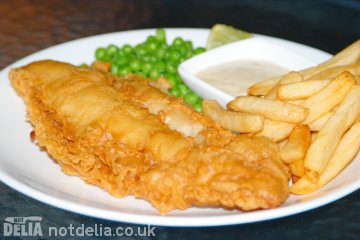 The fish was, to our surprise, pretty nice. It wasn't exactly cod – more likely basa, also known as Pacific dory – but it wasn't cooked to death and the batter was rather good. The chips were, as usual for Thailand, frozen imports. This is no great surprise as the potatoes normally available in Thailand are rather sweet and unsuitable for deep frying or roasting.
The meal came with a side helping of peas. Mr Not Delia doesn't eat peas with F&C unless they're mushy, so I got free rein. Lucky me, not. They were nasty-tasting little hard bullets. Mr ND wondered if they were tinned. Frozen reheats, I reckon. Overcooked, anyway. The tartar sauce was revolting.
Mr ND checked out the men's toilets, and reported them as clean and with proper hand-washing facilities including soap. As is all too often the case in Thailand, though, disabled access is limited – you could probably get into the bar OK, but guess what? The toilets are inaccessible.
We won't be going again. The fish compensates for a multitude of sins, but not enough to make us rush back. Especially not that far down Soi 11.