Scarlet at the Zign Hotel, Naklua, Thailand
Zign Hotel
555/65 M.5 Soi 12
Naklua Road
BANGLAMUNG 20150
The Zign is a relatively new monster-sized five-star hotel down Soi 12 in Naklua (a northern suburb of Pattaya). This area seems to be very popular with Russian tourists these days. If you walk down the soi you are likely to see more signs and menus in Russian than in Thai or English. This area used to be heavily populated by German expats but it seems the times they are a-changin'.
Anyway, we happened to be passing through the area and thought that we might as well give the Zign a try. It does look very swanky after all and it's expensive, so we had quite high hopes for it.
Scarlet, the restaurant where they hold their dinner buffet, is quite a palaver to get to. You need to go down several flights of stairs and there doesn't seem to be a lift. That's not so bad, but don't forget you have to go back up them all at the end of the evening. Be prepared for climbing the Matterhorn. Alternatively, you can request that they transport you with one of their electric buggies and they'll quite cheerfully do that for free.
The place is beautifully landscaped but they've not paid much attention to elf 'n' safety like they would have to back in Blighty. Thus you could find yourself tumbling over a knee-height wall to a great depth below. Most likely if you did this you'd land in the pool so you have a reasonable chance of survival. And, to be fair to the hotel, they've put up a big sign to tell you it's dangerous – see the photo above. It's nice to know they care.
The Scarlet restaurant is right on the beach, so if you can get a table right on the end of the restaurant it's a very pleasant place to sit. It's a strange kind of place, though. It seems to cater for a lot of coach parties on package tours. I think it was full of Koreans on the day we went. They were a lot of fun – doing karaoke, getting up on the stage and awarding prizes for various things to their fellow travellers. But they all came in at the same time, swarmed all over the buffet, and left about an hour later (presumably to go on to some event that had been pre-booked for them). Once they'd left, the place was almost deserted except for ourselves.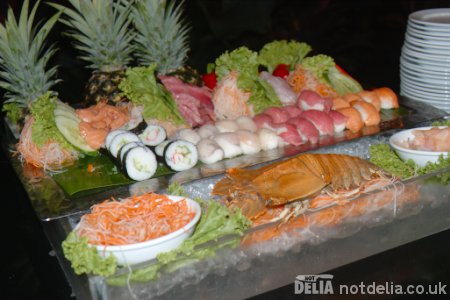 The buffet was fairly predictable, with the usual stations. The sushi and sashimi were nice enough but not exceptionally wonderful. There was nothing wrong with it. I also tried what they called spaghetti carbonara, which was made to order, and the chef did a nice job – but it wasn't carbonara at all. It was just spaghetti with a sort of creamy sauce. And I had a Caesar salad to accompany it. That was nice, but it was self-assembly so of course it would be made exactly as I like it.
We had a bit of palaver over getting drinks. There was plenty of "no have". I noticed red dots on the menu, and correctly figured out that red dot = no have. After studying the wine list for a while we decided to have two Tiger beers. "No have" that either, so we ended up on Heineken. But that was warm. Warm lager – urghh! We moved onto an Aussie Shiraz called "Cackleberry" – full-bodied, as described, sort of smoky, pretty tasty, but it was rather expensive. The bottle of wine actually cost more than our two meals.
Mr ND came back from one of his trips to the buffet with an odd fusion dish of aloo jheera with pork loin roasted with spinach and wrapped in pastry. But the server seemed strangely reluctant to let him have more than two slivers. Was it rationed? Had they only made one? He said it was nice enough. 
He also tried a stir-fried chicken with fresh ginger dish with red peppers. The red peppers turned out not to be capsicums, but red chillies, which he said gave a pleasant bit of heat to the dish. But he didn't seem to be particularly enthralled by it.
Meanwhile, I had a look at the crab, which was cooked and chopped up, but even so, without the correct tools it's almost impossible to get at the meat. And it just seemed like too much effort to ask for the tools plus a finger bowl, so I gave it a miss. 
Also on the seafood station were tomatoes stuffed with pink gloop and crab meat. That was OK, I suppose. There was some kind of seafood rillette. Hmm, not very nice. Overly fishy-tasting. Yes, I know you'd expect fish to taste of fish, but this tasted past its best.
The prawn tempura was very good if you could persuade a chef to make it to order, rather than settling for something that had been cooked half an hour ago and had been lurking on show ever since.
They had some nice bread on offer, but unfortunately they had a horrible sweet brand of local butter (Allowrie) so that let it down.
There was live entertainment provided by a two-piece band, a guy on keyboards and a female singer. They played inoffensive stuff, which most of the audience seemed to like, especially as the band encouraged audience participation.
Overall rating: 2 out of 5
All in all, we had a pleasant evening out but the food was fairly mediocre. I wouldn't be keen to go back.