Sushi – Nori Rolls (makizushi)
Having made sushi rice, next it's time to gather the ingredients for making some nori rolls. I like to make fat rolls so I used up all my sushi rice in only two sheets of nori, whereas Ainsley Harriott uses four sheets in his version, as he makes much smaller rolls.
I used a piece of sushi-quality fresh salmon and an avocado, cut into batons. I also prepared half a cucumber, as you can see in the photo, but didn't get around to making the vegetarian version. There's some salmon roe in the picture too, which I used for my California rolls. I also prepared some wasabi paste.
For Ainsley's version (after having made the sushi rice) he uses:
Ingredients
½ cucumber, seeded
1 avocado
175g (6 oz) fresh tuna or salmon
4 sheets nori seaweed
1 teaspoon wasabi (Japenese horseradish)
picked ginger to serve
soy dipping sauces to serve
Method
Cut the cucumber, avocado and fish into batons.
Halve the nori sheets and place one half on the rolling mat. Spread 2-3 tablespoons of the rice mixture onto the rolling mat, leave a 1cm (½ inch) margin on the edge furthest from you.
Spread a tiny amount of the wasabi across the centre of the rice, then place a row of cucumber then avocado or fish across the centre. Roll up so the join is at the bottom of the roll. Continue making rolls, alternating ingredients so that some contain just fish and others contain cucumber and avocado.
Trim the ends of the rolls with a sharp knife, then cut each into six pieces. Transfer to serving dishes and place a pile of pickled ginger with each. Serve with a soy dipping sauce – simply delicious and heavenly healthy.
Now for my version.
Method
Place the nori sheet shiny side down on the makisu (rolling mat). Have a small bowl of water handy for dipping your fingers in, as this rice will stick to them like glue otherwise.
Spread some of the sushi rice mixture over the nori sheet. (I used about half my quantity of rice, which is probably a bit excessive. You can use less rice and make more rolls.)
Spread a little wasabi over the centre of the rice.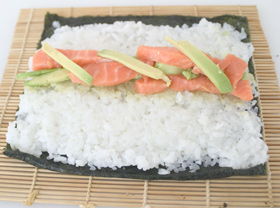 Now add whatever fillings you've chosen, as shown in the picture. I used raw salmon and avocado because that's my favourite.
Now start rolling, as shown.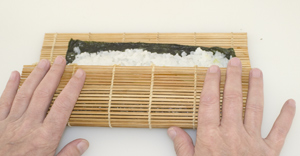 Keep going until you've almost rolled up the whole thing. Then rub or brush a little water over the end of the nori sheet, to seal (stick down?) the roll, so it doesn't unravel.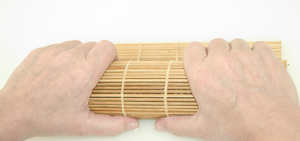 Just finishing off here, to make sure the roll is neat and firm.
Unroll the mat, and cut the roll into six (or eight) pieces. For neat rolls trim off the ends first with a sharp knife, and eat the trimmings.
Place the rolls on a serving plate and serve with Japanese pink pickled ginger, if liked, and some extra wasabi and soy sauce, if wanted.