Snapper NZ fish 'n' chips, Bangkok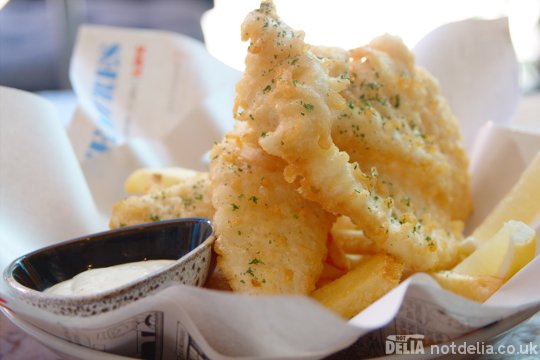 1/22, Sukhumvit Road Soi 11
Klongtoey Nuea
Wattana
BANGKOK 10110
Open 7 nights per week
Open for lunch Sat & Sun
Mr ND had business to attend to elsewhere. Thus I spent a few days in Bangkok on my own. No hardship! I was aware of a relatively new fish and chips place round the back in a little sub-soi, off Sukhumvit Road's Soi 11, so I was keen to give that a try. We used to like the Ship Inn but would no longer recommend that one. So we've been quite desperate for a while to find another good place for a fish 'n' chips fix whilst passing though Bangkok. Even better, Snapper was only a stone's throw from my room, so it had to be worth a try. I wasn't disappointed!
I went relatively early in the evening when it wasn't very busy so I probably got extra attention from the staff. The staff were really great, very friendly, very helpful, and completely unfazed by a sole western female diner. It was very comfortable, both in terms of the atmosphere but also because my seat had a cushion. What a relief after having spent too much time sitting on hard wooden seats over the previous few days. I don't have much padding on the rear, so my backside was most appreciative of that cushion.
There is a nice area to sit outside, where smoking is permitted. As is always the case, because of the law, smoking is not permitted in the air-conditioned area inside. I chose to sit outside, which was very pleasant and, given it's only a sub-soi, there's nothing in the way of traffic.
First up was to order a beer and that was brought promptly while I perused the menu. There's a wide variety of fish, along with descriptions, on the menu, plus chips and salad. The waitress was happy to advise on choices, but I had already decided pretty quickly that I'd like to try the hake. I was hoping to get something in the style of British fish 'n' chips and hake seemed like the best bet to me.
Chips come in full or half-portions so I ordered a half-portion. I don't eat much and I figured that if I needed more I could always order it. As it turned out, the half-portion was more than enough for me. The chips are as good as you'll get if you like frozen chips but I prefer chips made out of real, fresh tatties. That said, it can be very difficult sometimes to get good spuds in Thailand, so for consistency's sake, perhaps they were better to go for the frozen ones.
The hake, which came in a light and crispy batter, was absolutely gorgeous! Probably the best fish and chips I've ever had outside Caithness. It was served with tartare sauce, which was obviously home-made and not out of a jar. (You can see how lovely it was in the picture at the top.) When I complimented the waitress on the taste of the sauce, the chef almost immediately appeared and insisted I tried the tomato sauce. I was thinking, "Well, I've had tomato ketchup before…", but I tried it just to please her. And it was really, very, very, good. The best tomato ketchup I've had anywhere – that was also home-made, of course.
By the time I'd got halfway through my meal, I was already thinking that this was definitely a place I'd like to go back to. And my wish was granted – read on!
Mr ND returned the following day and I was excited to tell him about this new gem I'd found. Of course he wanted to go too. "But I only went there last night, and you want me to go again?" Considering I didn't have any better ideas, I was pleased enough to go back and show off how well I'd done. The staff greeted me like an old friend and welcomed me back as though I'd been going there for years. LOL.
I recommended the hake to Mr ND, but it was not to be as hake was off the menu that evening. Fair enough. Plus it gave us a chance to try something different. I chose the sole, and decided that it would be better to have sole in breadcrumbs rather than batter. A good choice, I think. The sole was delicious. (You can see it above.) Mr ND had red gurnard in batter (below) which was also delicious. (Neither matched up to the hake for me, though.) We also had a half-portion of chips between us, which was adequate. And a salad, which was OK but nothing to write home about. I probably wouldn't bother with a salad again.
Once again, it was a good night out and we both agreed we'd go back sometime. Read on!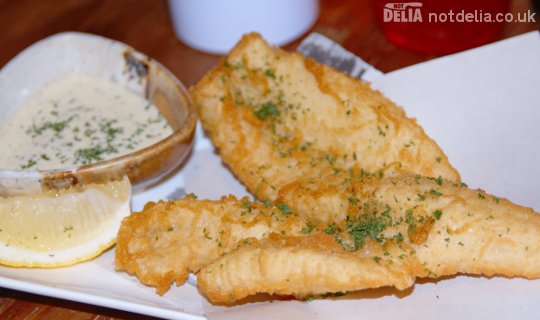 A couple of days later, we were due to get back on the road and leave Bangkok. We fancied some lunch before we set off, so where would we go? You guessed it. Let's go to Snapper again. And so we did. (It's open for lunch at the weekends.) Same experience as before, except that this time hake was back on the menu. We both had hake and enjoyed it immensely.
Crikey! That was three meals at Snapper within a week – almost unheard of.  And I'd still like to go back for more. Definitely next time we're passing through Bangkok.
OK, it's a little bit more pricey than some places. But not that much, and the high quality of fish is certainly enough to merit the extra. They serve Beer Lao, too.
Overall, a strong 4½ out of 5. Lovely in every way. Highly recommended!