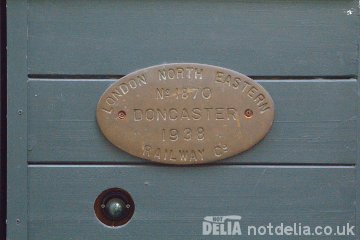 3 Soi 11
Sukhumvit Road
Khlong Tan Nuea
Wattana
BANGKOK 10110
We've been to this restaurant several times but have usually gone with friends and so didn't want to faff about taking photos and notes. However, it's high time we wrote about this place because it's a great place to go for a Thai meal if you're in the lower Sukhumvit area.
Rosabieng – pronounced roughly "ro'-sa-bee-yang" – means "dining car" (literally, rot (รถ) means car or carriage and sabieng (เสบียง) means supplies or provisions). The reason the restaurant is so called is because there's a railway carriage in the garden at the front of the building. In fact, the railway theme extends inside as well with a superb model railway and other interesting railway-related features, but we chose to sit outside at the front.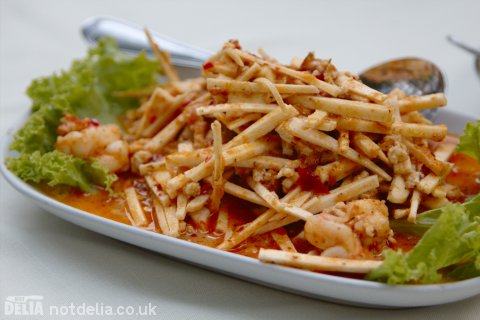 This is called "spicy top coconut cone salad with shrimps" on the menu. Despite its description as being as "salad", the taste of this dish is more akin to that of a typical Thai red curry.  The julienned coconut shoots were very crisp and tasty, and the shrimps were properly cleaned (I have a bit of a thing about being expected to eat prawn poo). Overall, it was a most enjoyable dish. One small word of warning for those who eat fish but not meat: there is some kind of unidentified minced meat (pork or chicken?) used as an additional flavouring for this dish.
This is stir-fried crabmeat with curry powder. "Curry powder" in this context is a complete misnomer. We've had several Thai meals in various places with this so-called curry powder. It's much more like the usual Thai curry paste or gravy but with its own distinctive and delicious taste. Try it! If you like Thai food, you won't be disappointed. I was a little bit concerned about ordering stir-fried crabmeat, as we've usually had crab pieces, and I wondered what kind of bits they might be putting in the stir fry. I needn't have worried, the crabmeat consisted of generous chunks of prime white flesh. I would be more than happy to have this again.
This is grilled pork with North-Eastern style spicy lime sauce. The pork was tender and nicely cooked. We'd be happy to have that again too.
This is morning glory "in flamed frying-pan". We've had morning glory plenty of times before but I was curious to see what they would produce to meet the "flamed frying-pan" description. Nothing actually, it's just like any other morning glory stir fried in oyster sauce or similar. It's nice, but nothing to write home about.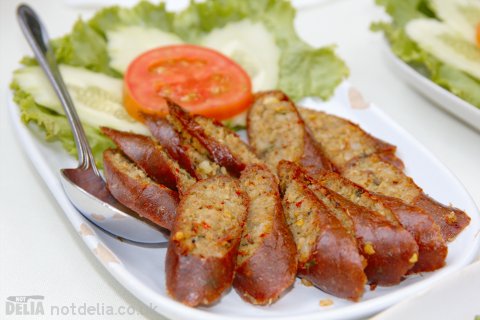 This is Northern-style spicy pork sausage. As you can see, it's very dry-looking. But Mr Not Delia (who particularly wanted to try it) enjoyed it very much. He said it wasn't overly meaty or greasy – and not blow-your-head-off spicy either, though with a respectable amount of heat. He'd order it again. (In fact, we'd over-ordered, but the staff were quite happy to pack excess food for us to take away, so he got to enjoy it as a snack all over again later.)
All in all, the food is very nice at Rosabieng, and not hideously expensive either. (The crabmeat was the most expensive item we ordered, at just 270 baht.) There is a bewilderingly big menu, but don't let that put you off as they do seem to make a good job of producing what they offer. It's also very cheap for beer, especially for such a prime location on Sukhumvit – 115 baht for a big bottle of Tiger. Service varies – some of the staff are very nice and helpful, others would apparently prefer you not to be there so they can chill out with their motherf*cking music. (They seem to play hip-hop most of the afternoon. There's a live singer after eightish, too. No wonder they're so busy around sunset.) As you can see from the bottom photo, some of the crockery is a bit worn. The mosquitoes can be a problem, despite the fishponds.
The food is very good but the music is off-putting to say the least. It's usually far too loud for comfort and there is that additional problem of trying to eat a meal in comfort when your ears are being bombarded by profanities at top volume.  What a shame that a place with a nice garden and delicious food would spoil the atmosphere with their inappropriate music.