Roast pork and stuffing sandwich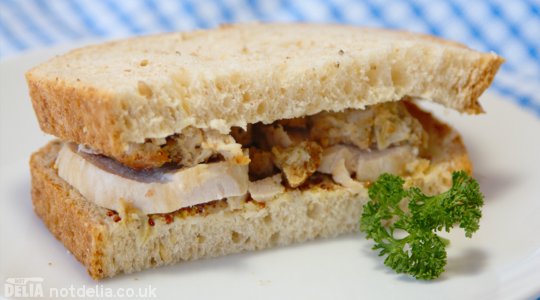 This is quick and easy to make, especially if you have leftovers from a roast dinner.  Anyway, you need some nice bread – it's a sandwich, after all – some slices of roast pork and some stuffing.  Of course you can buy roast pork and packets of stuffing from the supermarket but it's nicer to make your own.
I bought a pork tenderloin. There's lots you can do with this lean cut of meat. For the purposes of my sarnies, I didn't cut it at all but simply browned it in hot oil in a frying pan and then roasted it whole in a medium hot oven for about an hour. Then I let it rest and cool and then I sliced it. Some people like thick slices, others like thin, so I did both as you can see in the photo below.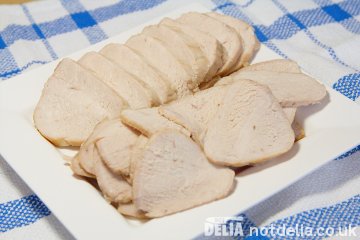 While the pork was roasting, I also made some sage and onion stuffing balls and popped them in the oven.
Perhaps I should say that all this roasting was for a roast dinner as well. We had the full Monty with mashed potatoes, Yorkshire puddings, buttered cabbage, carrots and onion gravy. Yum!
The sarnies were planned ahead for the following day. So, the next day I already had my cold roast pork and cold stuffing. This is a simple assembly job. Spread the bread with butter and wholegrain mustard. Add slices of pork and stuffing, and that's it. Of course you can stuff a pork joint and do it that way but if there's only two of you, it's a bit much. It's just quicker and easier to roast a pork tenderloin and make some stuffing balls. The sandwiches tasted great anyway. The photo at the top only shows a half-sarnie to give you a better view of the filling.
By the way, you could use roast turkey or chicken instead of the roast pork if you want to.