Sirloin Steak and Chips – Caithness style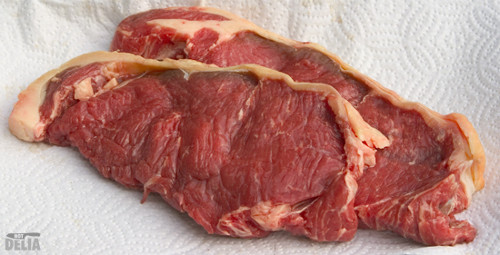 During our recent visit to Caithness we were absolutely spoiled for choice by all the wonderful local produce available.  We were frequent customers of MacKay's fishmongers and we also had the pleasure of visiting the local smokehouse – the most northerly in mainland Britain. Despite being huge fans of fish, we decided it was only fair to try some of the local meat as well.  The area is renowned for its beef and lamb so we decided to sample some steaks.
As it happened, the tastiest looking steaks on offer that day at Castletown Butchers were sirloins.  Sirloin isn't usually my favourite cut as it can be a little bit dry sometimes (I usually prefer rib eye) but as you can see from the picture above, these sirloin steaks looked irresistible – all beautifully trimmed as well.
Well, we didn't faff about cooking (just whapped 'em in a hot frying pan), or taking photos, because we just wanted to scoff them up as soon as they were ready.  Our host in Caithness had dug tatties straight from the garden and he supplied the best chips I have ever tasted to accompany the meal.  Steak and chips – an old classic but a great one.  Caithness style?  Nothing fancy – with some of the best and freshest locally grown produce you don't want anything other than simplicity to let the magnificent quality of the food shine through.
If you're not sure how to cook a sirloin steak, here's a video of Gordon Ramsay cooking one.