Not Delia's Poll 8 – Chocolate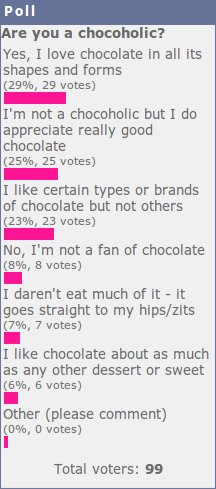 In the wake of having been immersed in chocolate at The Pavilions in Phuket back in the autumn of 2011, I asked you how you felt about chocolate and how many of you were chocoholics.
Not too surprisingly, a tidy majority of you liked chocolate. Some of you were a bit more discerning than others, willing only to say that you appreciated the really good stuff. It'd be interesting to know what brands these more discerning people choose – the posh Belgian hand-made ones, perhaps, or the better Swiss bars?
Others said they liked certain brands or types but not others. Again, I'd love to hear what were the ones you didn't like. I can think of a couple of candidates. White chocolate seems to be the Marmite of the chocolate world; some love it, others don't even consider it to be chocolate at all. Some are partisans of Cadbury's over Galaxy, or vice versa; again, some consider them both to be inferior products not worthy of consideration.
Only a few of you actively disliked or were indifferent to chocolate – fewer than 20%.
That said, I was surprised at the relatively low number of people who were interested enough in chocolate to vote at all – let alone comment – considering the amount that's sold in the UK each year.
If you've any thoughts on the matter, I'd love to hear them, so please have your say!