Rib eye steak teppanyaki-style with noodles and mushrooms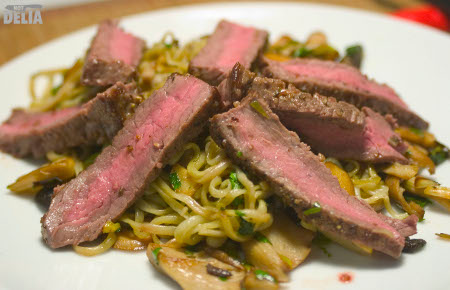 Wikipedia has some interesting information about cooking teppanyaki style and also about the Benihana chain of teppanyaki restaurants. Our local Benihana does indeed put on quite a show for the diners – it's all part of the experience and is fun to watch. I felt inspired to attempt something in a (sort of) teppanyaki style, albeit without the showmanship and knife juggling.
I cut a well-marbled but leanish piece from the rib eye steak for this Japanese-inspired dish.
Ingredients
Rib eye steak
Noodles (I used Japanese-style green noodles)
Mushrooms, sliced (I had an assortment of oriental mushrooms)
Garlic, finely chopped
Cooking oil
Soy sauce
Herbs for garnishing, eg coriander
Method
First let your steak come to room temperature before cooking. And also preheat an oven at a lowish temperature or a warming drawer so the steak can rest in a warm place after cooking.
Cook the noodles. Mine were done by being placed in boiling water for three or four minutes. Drain and set aside.
Meanwhile chop the garlic and slice the mushrooms and sweat off in oil in a wok or other suitable pan. Set aside when done.
(All this setting aside is because you want to have everything ready all at the same time.)
Season the steak with salt and pepper and a little oil. (Don't season it too early or the salt will draw out the juices.) Add a little oil to a grill pan (or a frying pan) and heat it. The oil should be very hot. Now place the steak into the pan and sear for a minute or two on both sides, depending on how rare you like your steak. Set the steak aside in a warm place to rest. (You must let the meat rest before carving, otherwise the juices won't have time to settle and the steak won't be so juicy and tender.)
Now go back to your wok with the mushrooms and garlic. Add the noodles and stir-fry. Add a small splash of soy sauce. Chuck in some coriander, if wanted. When the meat has rested (about five minutes should do it) cut the meat into slices.
Put the stir-fried noodles onto a plate and serve the sliced steak on top.