Queen's Tandoor, Singapore
11 Unity Street
Singapore 237995
Tel: 6235 3003
Open daily 1130-1500, 1800-2300
I noticed a "Thank you for not smoking" sign on the table and asked about it. "Oh, no problem," came the swift reply. The sign was whipped off the table and an ashtray brought.
We ordered onion bhajias (which appeared under pakora), prawn curry and raan-e-bahar.
The bhajias were small and dainty rather than the golf-ball sized bright orange-yellow things you tend to get in British curry houses. For their size they packed quite a punch, though – hot, hot, hot! – but the complex blend of spices still came through the heat. All the same, we weren't sure that the oil they'd been cooked in was as fresh as it might have been, which was a bit disappointing.
For those of you who don't know what raan-e-bahar is (and we certainly didn't before this meal), here's the menu description: "A speciality of Delhi. Leg of lamb marinated in spices and cooked slowly in a true North-West Frontier style". You can order it roasted or masala; we had the masala version. It was beautifully cooked, with a complex spicy tomatoey sauce including cinnamon and cloves, and just enough fat left on to keep it moist and a little stick-to-your-teeth texture. There's a picture of it at the top of this review.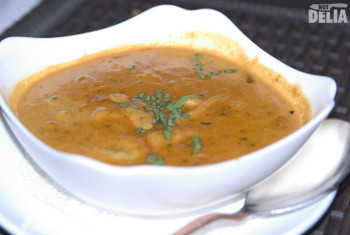 The prawn curry's description was altogether more prosaic: "The classic traditional prawn curry cooked with herb and spices".
The plain naan was a bit dry and boring, not altogether surprisingly. The garlic naan was much better. The wholemeal chapatis were pretty much what you'd expect.
All was topped off with two jugs of Tiger – the first at the Happy Hour price (a S$3 discount), the second at the normal rate.
Service was pleasant and mostly very quick, good humoured and efficient. Plates were removed from the table when required, neither too promptly nor with undue delay. The tables outside were laid without cloth napkins, but we could see that place settings inside did have them; we asked for proper napkins and were given them promptly.
But at the price, you'd expect the service to be good. S$160 (that's nearly 80 quid!) for a curry meal for two, even a good one with plenty of beer, is a bit over the top. The price included 10% service charge, so we didn't feel under the obligation to leave a tip on top of that.
Overall rating: 3 out of 5
The food was good and the staff were very helpful, but we didn't think it was very good value for money.