Prawn and Chilli Ginger Cakes – Photo Essay
Here's a little photo essay of me making Ainsley Harriott's prawn and chilli ginger cakes (you can find the ingredients and method here).
I've assembled all the raw ingredients. (Not my usual method – I normally just bung things in as I go along.)
Mr Not Delia got the prawns from the local market a couple of hours ago and they're still intact. It took about 20 minutes to decapitate, de-shell, and clean them. You'd save a lot of time if you could buy ready cleaned raw prawns – frozen perhaps?
Here's everything prepped up and ready to go. It didn't look like there'd be enough chillies so I added another one. We like spicy food.
Next the ingredients go into the blender and are pulsed until mixed. Here's the result. The mixture looks wet and unlikely to make the desired result…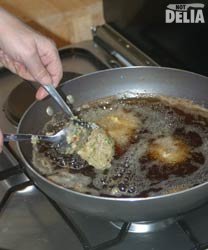 …but I pop it into the wok anyway, a spoonful at a time. You can trust Ainsley. Meanwhile I get the salad garnish ready.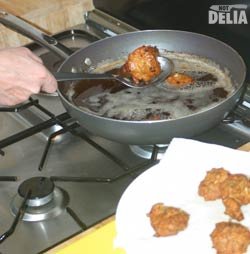 Here they are coming out of the wok and onto kitchen paper to drain.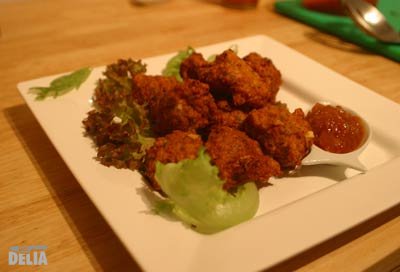 The finished result! And I have to be quick with the photos before Mr Not Delia scoffs them all. They're pretty good, though I say it myself. I've also put a bit of chilli jam on the side – from another Ainsley recipe (from Ainsley's Big Cook Out). He describes the chilli jam as "…always a winner. Once you've tried it, you'll be back for more – and it goes with absolutely anything." He's right! Try it on a cheese sarnie. Wow!
There are loads more wonderful recipes in Gourmet Express. I've maybe done it a disservice by choosing one of the more complicated ones, especially with all the prep involved in cleaning prawns, but I can't emphasise enough how great this book is. Apparently there's now a Gourmet Express Book 2 available. I can hardly wait to check it out.
Ainsley Harriott's Gourmet Express
Ainsley Harriott
Hardback, 178 pages
2000, BBC Worldwide
ISBN 0 563 55179 8
RRP: £16.99