Peninsula Excelsior Hotel, Singapore: breakfast
Overall, breakfast at the Peninsula Excelsior Hotel is good. It's worth getting out of bed for, at least. We visited a few months ago and I'm only just now trying to make sense of my notes, but here goes anyway.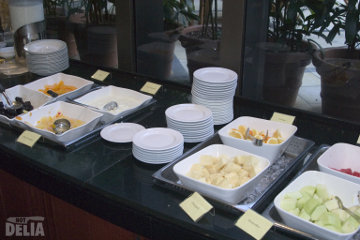 There were several stations where you could help yourself to cooked food, tea, coffee, juices, fruit, cereals, etc. Plus they had an egg station where eggs were cooked to order. The fried eggs at the egg station looked pretty good, as did the omelettes.
The hash browns looked great and, unlike in many other places, didn't taste too salty. The streaky bacon was good. They also had weirdie tomatoes with cheese on top. I thought they were "quite nice", but Mr ND thought the topping didn't add very much. The scrambled eggs looked overcooked and were watery. (Why is it so difficult to get properly cooked scrambled eggs in Asia?) The baked beans were OK – Mr ND thought they were "a bit hard, slightly bullety"; they seemed fine to me.
The cooked food station also included several Malay dishes such as nasi lemak.
There were three flavours of juice available: orange, pineapple and grapefruit. I went and found the PJ looked like OJ, and the OJ looked like PJ but turned out to be GJ. I don't know why they didn't just label them properly.
The salad bar had a few bits and bobs, like sliced ham, but didn't look very exciting. There was also a small fruit bar. They had a full range of cereals including a rather soggy-looking muesli with milk.
There was tea and coffee in mugs (which Mr ND was glad to see), and hot milk if wanted. They had two powerful toasters with a choice of sliced brown or white bread. There was also a small selection of Danish pastries – Danish custard, pain au raisins, apple Danish.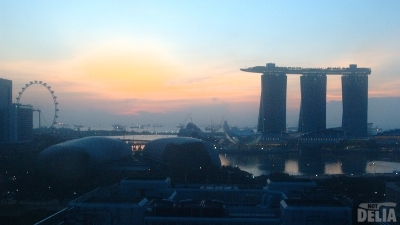 This was not the best breakfast buffet we've ever had by any means, but equally it was far from being the worst. It was worth coming downstairs for. All the same, I would say that the main reason to stay at this hotel is not the food, it's the superb views. I doubt if you could get a hotel with better views in the whole of Singapore.