How to cook Perfectly Simple Scrambled Eggs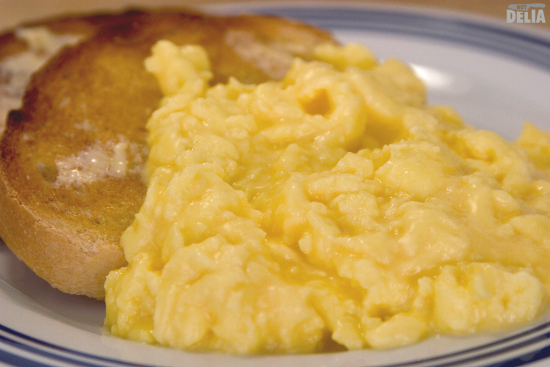 Scrambled eggs is something I can knock out without even thinking about it. However, like boiling an egg, everyone seems to have their own way of doing things. Surely it doesn't have to be so complicated. Darina Allen takes a simple approach.
As for myself, I do confess to a little bit of a faff, because I always pass my eggy mixture through a fine sieve before going on to make them in pretty much the same way as Darina. I also don't season mine with salt and pepper prior to cooking – I prefer to let people do that for themselves afterwards and choose how much, if any, seasoning they want on their eggs.
The main thing, in my opinion, is don't overcook the eggs. Make to order, serve and eat immediately.  Remove the pan just a little bit before the eggs are ready. They will continue to cook with the residual heat until you're ready to serve them. Remember, you can always cook them a little bit more, but you can't cook them any less once the damage is done.
Darina Allen's scrambled eggs recipe
(Serves 2)
Ingredients
4 eggs
2 tablespoons creamy milk
a knob of butter
salt and freshly ground pepper
Method
Break the eggs into a bowl, add the milk and season with salt and pepper. Whisk until the yolks and whites are well mixed.  Put a blob of butter into a cold saucepan, pour in the egg mixture and stir continuously, preferably with a flat-bottomed wooden spatula over a low heat, until the eggs have scrambled into soft creamy curds. Serve immediately on warm plates with lots of hot buttered toast or fresh soda bread.
Darina's Tip:
If the plates are too hot the scrambled eggs will actually overcook between the stove and the table.
And then I did it my way. Here it is:
Not Delia's Perfectly Simple Scrambled Eggs
Ingredients
Same as Darina's except that we only had small eggs available so I used three eggs for a one-person serving.
Method
Melt the butter over a low heat in a saucepan. Meanwhile whisk the eggs with the milk.
Keep the pan on a low heat. (Remove it from the heat completely if the process starts to go faster than you can.)
Pour the egg mixture through a fine sieve into the pan.
Stay on a low heat. You don't want to rush this. It'll be done in less than 5 minutes anyway, so don't try to hurry it.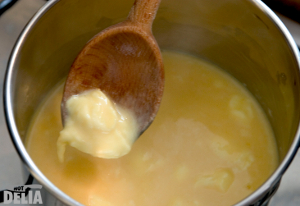 As the eggs start to scramble, keep gently folding in the mixture with a wooden spoon. Don't stir it vigorously, just keep it moving gently.
Before long, the eggs will start to solidify a bit. Now is the time to be careful. Do not overcook or you'll get hard lumpy stuff – that's not scrambled eggs. They should have a soft creamy consistency. Stop cooking before they're ready. Believe me, they'll continue to cook in the pan. (See my mishap in the photo below.)
Serve and eat immediately.
Cook's tip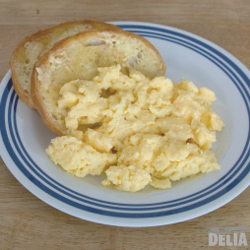 I mentioned not to overcook the eggs, and I didn't. Unfortunately when we went to take the first photo session I discovered that the toast for my perfectly cooked scrambled eggs wasn't correctly in place on the plate. (Blame Mr ND for that.) By the time I'd got that sorted, yep, the eggs were overcooked, because they'd continued to cook in the pan while I was sorting out the toast. Aaarghh! I'm showing you this as an example of how easy it is to get things wrong, and so you can see how NOT to serve scrambled eggs. I guess most people wouldn't care if their eggs were a little overcooked. It's not worth losing sleep over, but it's worth trying to get it right if you can. No worries, the toast was in place, ready and waiting for the second attempt.
I hope that you'll join in and have something to say about this simple dish, which you've probably been making for years without even thinking about.