Passage Thru' India, Penang
11a Leith Street
Georgetown
Penang
Malaysia
Walking along Georgetown's Leith Street on a recent visit to Penang, we had a flyer thrust at us as we passed the row of restaurants and bars opposite Cheong Fatt Tze's mansion. It was from Passage Thru' India, and proudly boasted that it had been voted the best Indian curry restaurant in Malaysia by some tourist organisation or other.
Yeah, right. We've heard that sort of claim before. Nevertheless, it was a long time since Mr Not Delia and I had had a proper curry, so the following evening he and I nipped down the road from our hotel and went to investigate. (If you look closely at the photo above, you can see Mr Not Delia sitting inside.)
The PTI's décor plays heavily to the Indian theme – plenty of fairy lights outside, lots of Indian memorabilia (including a lot of Rajasthani dolls and statuettes) inside. It would be easy to do this in a tacky way, but it works very attractively in the PTI; the atmosphere is exotic without being over-fussy.
We arrived at about eight o'clock – about an hour after opening time – and were the only customers there. This was a bit disconcerting, but we suspect the reason is that people don't generally eat until relatively late in Penang; it did start to get busier as the evening progressed.
Sitting at our table with two bottles of Tiger, Mr ND and I perused the menu. The PTI's style of food is very much in the tradition of the British "Indian" restaurant rather than a regional genuine Indian one, so thankfully we weren't presented with a whole range of Mughlai favourites like mutter paneer (peas and cheese) or dal makhani (brown lentils in butter). Mind you, they don't do dosas or other South Indian specialities either.
Here's a quick preview of the menu, section by section, together with prices (in Malaysian ringgit (RM) – the exchange rate as of July 2008 was RM6.50 = £1):
Soups & salads
Garden salad – RM8. This was fresh and full of flavour. Very nice!
Entrées
Vegetarian
Madras bhaji – RM6. These were more like light little pakoras than the big claggy lumps you get in your usual UK curry house. Tasty – thanks perhaps to the liberal sprinkling of curry leaves – but a bit on the dry side.
Aloo jeera – RM 8
Non-vegetarian
Chicken samosa – RM7
Kashmiri lollypops (sic) – RM8
Main courses
Chicken (murgh)
Murgh tikka butter masala – RM13. Nothing actually wrong with it, but a little disappointing; we've had some much more complex and satisfying ones.
Khodi gunthur – RM13
Fish (machilli)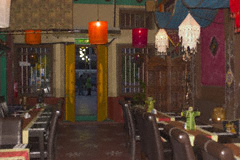 Fish do pyaza – RM14
Marina meen – RM14
Prawn (jingha)
Kadai jingha – RM15. This basic prawn curry was very much like a prawn bhuna, without the oomph. I experimented by adding a little of the roghan josh sauce to it, which improved it. (One major plus point was that the prawns had been properly cleaned. There's very little more off-putting than buying a prawn dish in a restaurant and finding that the intestinal thread hasn't been removed – many supposedly posh hotel buffets are guilty of this.)
PTI prawn masala – price varies according to season. We discovered that it was literally a single king prawn that was served. Very tasty, though.
Lamb (gosht)
Roghan josh – RM14. We were warned that this would be spicy. Fine, we said. If you don't like spicy food, what are you doing in a curry house? In the event it was reasonably spicy, with good complexity of flavour.
Gosht vindaloo – RM14
Vegetables (subji)
Tadka dal – RM11
Urulai varuval – RM11. This was a South Indian dish of potato chunks fried with spices. Mr ND liked it; I thought it was OK.
Channa masala – RM11. We were expecting a dry dish of spiced chick peas, so were a bit surprised when they arrived in a spicy gravy. (Silly really – the clue was in the name of the dish.) But this was very nice.
Palak paneer – RM11. (If you think you're getting a review of this, forget it. Having lived in Delhi for three years, we're sick to the back teeth of paneer.)
Rice (chawal)
Dhum biryani – RM15
Green peas pulao – RM9
(We never bother with rice when we're out for an Indian – give us naan every time.)
From the tandoor
Chicken tikka – RM15
Kashgar kebab – RM15
Roti/breads
Butter naan – RM4. Despite the name, this was more like a chapati than a naan. Still good enough to soak up the gravy with, though.
Pratha – RM4
Desserts
Rasmalai – RM4
Kulfi – RM6
This isn't even half of what the menu offers, but it gives you a fair idea of the range and the prices.
The quality of food is consistently pretty good. (We've been back twice since, and it's been enjoyable every time, although the actual dishes themselves have varied a bit in how they're made – maybe they have a different chef on some nights.)
Note that, compared to many British "Indian" restaurants, the portions are quite a bit smaller – and cheaper. This is great if there are only two of you, as it means you can still order a wide variety of dishes in the knowledge that you're not going to be drastically over-ordering. And with even the most expensive dishes at only about £2.50, it won't break the bank either.
The service is great! There was a three-month gap between our first and second visits, but they remembered us. (On our first visit we'd been sitting underneath the air-conditioning unit and had commented on the cold, so when we visited the second time and went to sit at the same table they suggested we'd be more comfortable at a table further inside the restaurant.) They were very friendly and helpful on all three occasions; when we still had a few nibbly bits of bhaji left at the end of the meal, they cheerfully bagged them up for us to enjoy back in the hotel room.
Overall rating: 4 out of 5
The Passage Thru' India may not offer the best Indian food in the world. But what it does do is provide good quality British-style Indian food, in conveniently sized and competitively priced servings and amid attractive and comfortable surroundings. We've been back twice already and no doubt will go again the next time we fancy a curry in Penang.