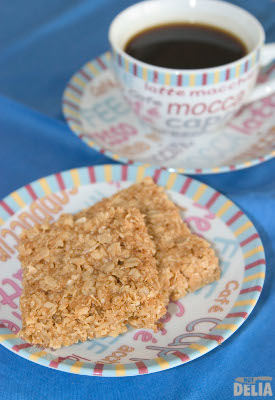 Here's another recipe from Darina Allen's Ballymaloe Cookery Course. It's very quick and easy – just make sure you use rolled oats and not fine-ground oatmeal.
The original recipe is below (page 469). I made half quantities and produced 12 biscuits. They were a bit like flapjacks but a bit crunchier – very tasty though. I'd make them again.
Ingredients
350g (12 oz) butter
1 tablespoon golden syrup
1 teaspoon pure vanilla essence
225g (8 oz) caster sugar
450g (1 lb) rolled oats
Method
Preheat the oven to 180°C/350°F/Gas 4.
Melt the butter, add the golden syrup, and vanilla essence, stir in the caster sugar and oatmeal and mix well. Spread into a Swiss roll tin [or other suitable baking tray] and bake in the oven until golden and slightly caramelised – about 30 minutes. Cut into 24-32 squares while still warm.
***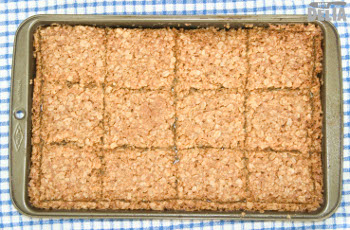 The recipe omits to say that the biscuits are very pliable when warm, so you definitely want to cut them into squares then. They get quite crispy when they cool down and would be very difficult to cut then.