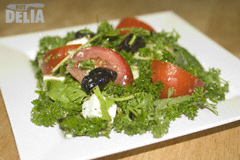 Donna Hay does a pretty good Greek salad in her Modern Classics Book 1. I really fancied it but I didn't have several of the required ingredients. Oh well, that's never stopped me before – so I made a Not Greek salad.
Greek Salad
– Donna Hay
Ingredients
4 vine-ripened tomatoes
2 Lebanese cucumbers, sliced thickly lengthways and halved
1 cup flat-leaf parsley leaves
¼ cup mint leaves, halved lengthwise
1 cup Kalamata or firm black olives
250g/8oz feta cheese, sliced
cracked black pepper
Dressing
2 tablespoons olive oil
1 tablespoon red wine vinegar
sea salt and and cracked black pepper
Method
To make the dressing, whisk together the oil, vinegar, salt and pepper.
Place the tomatoes, cucumber, parsley, mint and olives into a serving bowl. Pour over the dressing and top with the feta and cracked black pepper. Serve with lemon wedges if desired. (Serves 4-6 as a side dish.)
Not Greek Salad
– Not Delia
I made my version by using what I happened to have, and very tasty it was too:
Ingredients
(per person)
1 fairly large tomato
½ courgette, diced
a small handful of rocket leaves
a few Italian basil leaves
a small bunch of coriander leaves, chopped
a small bunch of curly-leaf parsley, chopped
a small handful of black olives, stones removed and halved
1 teaspoon of mint sauce from a jar*
a chunk of cream cheese, cut into smallish cubes
Dressing: oil, vinegar, and seasoning
Method
I made my dressing pretty much the same way as Donna Hay, except that I don't whisk mine. It's much less faff to put it into a small jar and give it a good shake. (Jamie Oliver does it this way too.)
Chuck all of the ingredients, except the cream cheese, into a mixing bowl and pour on the dressing. Taste, adjust seasoning by adding more dressing or salt and pepper if necessary. Add the cheese. Serve on a plate or bowl.
I see Donna Hay does her mixing in the serving bowl. That's fair enough if you want to save on washing up. I prefer to mix in a mixing bowl and serve in a serving bowl.
* A jar of mint sauce is an excellent cheat item to have handy in your store cupboard. You can often use it in salads and other savoury dishes where the recipe calls for mint.
Donna Hay's Modern Classics
Book 1
Donna Hay
Paperback, 192 pages
2002, William Morrow
ISBN 0 06 009524 5
RRP: US$24.95