Not Delia's Easy Roast Chicken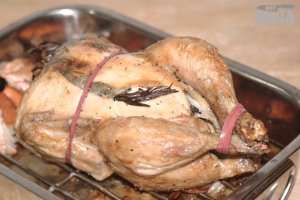 Mr ND went shopping and came back with a sparrow. It said on the label that it was a 1.1kg chicken. It was very small and whilst there are only two of us and we didn't need a monster-sized one, it's just as much work to cook a small one as a larger one. Never mind. I decided to roast it.
First I washed it and patted it dry. Then I did my usual thing of inserting butter between the skin and flesh, added a few sprigs of rosemary for extra flavour, and seasoned it with a few grinds of salt and pepper. As you can see from the photo, I was a wee bit clumsy with it and tore the skin. If I'd been more on the ball I'd have covered that bare bit with a strip or two of streaky bacon. Ach well, Not Delia doesn't do perfection, just good food. And anyway, it wasn't my fault that I had to deal with a bird I needed a microscope to see.
The next step is normally to truss the bird using string, but I have recently become the proud owner of some silicone stretchy cooking bands (which I got from Nisbets, but Nisbets doesn't seem to be selling them any more. Pity). Anyway, this was the first time for me using these things. According to the packaging, you can "Use [them] anywhere butchers twine, string or toothpicks are used". (Hmm, I doubt if they'd be much good for picking your teeth.) These things can withstand temperatures of up to 300°C and can be used for roasting, grilling, BBQ, etc. I actually found it a little bit fiddly to truss the bird's legs with the silicone band as it kept boinging off, but once I got it fixed it was fine and certainly easier than faffing about with string. Another advantage of the bands is that they're so easy to see and remove after the cooking process, unlike string, which can be harder to spot. Mr ND can vouch for the fact that they're easy to wash too.
Having trussed the bird, I placed it in a roasting tray on the bed of roughly chopped carrots and onions to add flavour to the juices (which I used to make gravy afterwards). I started it off breast down in a hot oven for about 20 minutes, then on each side for about 20 minutes, and finally let it finish cooking breast side up for about 20 minutes. Once cooked (no pink juices), you must let the bird rest for about 15 minutes or so before carving.
For those who like more precise recipes, I found a good one on UKTV. Unfortunately the comments are rather harsh but I think that's more of a reflection on those commenting than it is on the author, Tamasin Day-Lewis.