Not Delia's bung-it-in prawn curry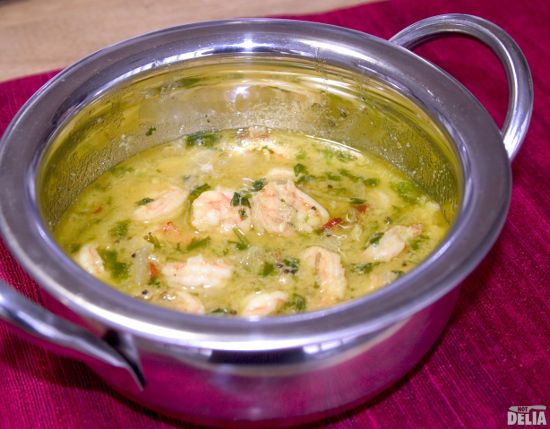 I wanted to make a prawn curry but wasn't keen on spending too long on making it. After a bit of searching, both online and in my various cookbooks, I settled on making a hybrid of two rather different recipes.
The first was BBC Good Food's Kerala Prawn Curry, which certainly looked good in the photo and easy to make. But, quite frankly, I don't trust BBC Good Food or their recipes – most of their stuff is too dumbed down.
Then there was was Camellia Panjabi's 50 Great Curries of India, which had a simple home-style all-purpose curry sauce recipe. Great, but that was going to take too long.
So I did a mix-and-match effort. It's obviously not any kind of authentic curry but it did taste pretty good. Because of the coconut milk, it gave the initial impression of being a mild curry, but it didn't half pack a punch when the spices kicked in. (Is that a mixed metaphor?) There again, I didn't de-seed the chillies. Why throw the best bits away?
Here you go if you want to try a compromise between being quick and making a more complex curry.
Ingredients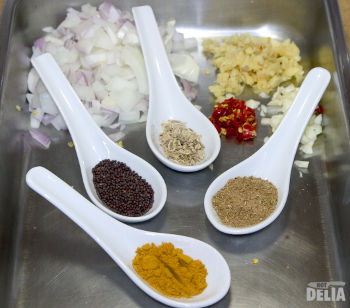 1 tbsp oil (I used ghee)
1 onion, chopped
2 large cloves garlic
2½ cm cube of fresh ginger, peeled and finely chopped
1 tsp black mustard seeds
1 tsp garam masala
½ tsp fenugreek seeds
½ tsp turmeric powder
250 ml coconut milk
salt and freshly ground black pepper to taste
Fresh coriander
170 g uncooked prawns (because that was the weight of what I happened to have)
a squeeze of lime juice
Method
Get a wok (or suitable pan), heat the oil and sweat off the onion, add the garlic and ginger.
Next add the dried spices and cook for another couple of minutes.
Add the chillies and coconut milk and bring back to a simmer. I let it simmer for about 15 minutes because it needed to thicken up a bit.
Finally add the uncooked prawns and the chopped fresh coriander and cook until the prawns turn pink.
Taste and season as required and finish with a squeeze of lime juice.
We had ours with naan bread but I think we might have been better having rice to soak up the gravy as it was really quite runny. Alternatively, you could make it thicker with another chopped onion, less coconut milk, or longer simmering to reduce the gravy further.
Next time you make a bung-it-in curry, why not share your ideas with us?