by David Stanley
[We're delighted to welcome David as our latest guest blogger. David is a travel writer based in Nanaimo, British Columbia. Besides his work for print publications including the Lonely Planet series, he also runs several excellent travel websites, including GoNanaimo.com.]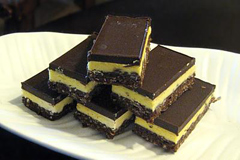 The sinfully rich Nanaimo bar takes its name from the city of Nanaimo on the east coast of Vancouver Island, Canada. This calorie-laden dessert was first mentioned in local cookbooks in the 1950s. Today the three-layer bars are kept next to the cookies and muffins in most British Columbia cafés.
To prepare the base layer, combine half a cup of unsalted butter or margarine, a quarter cup of granulated sugar, and five tablespoons of cocoa powder in a double boiler over the heat. Add a beaten egg, mix well, and pour into a mixing bowl. Stir in half a cup of chopped almonds or walnuts, one cup of grated coconut, and two cups of graham wafer crumbs. Press the soft mixture firmly into an ungreased eight-inch square pan and put the pan in the refrigerator to chill.
To make the filling, combine two tablespoons of vanilla custard powder, two tablespoons and two teaspoons of cream, half a cup of softened unsalted butter or margarine, and two cups of icing sugar in a mixing bowl and beat until smooth. Spread this mixture evenly over the base layer and
place the pan back into the fridge to stand for half an hour.
For the topping, melt two tablespoons of unsalted butter or margarine and four ounces of semi-sweet chocolate over low heat and stir until smooth. Allow the liquid to cool slightly and pour it over the filling. Place the pan back in the fridge to chill. Once the product has set, use a hot knife
to cut the slab into around 40 bars, which should be stored in the fridge.
This is only one Nanaimo bar recipe – there are many variations.
David Stanley