Lindt Excellence – a chocolate experience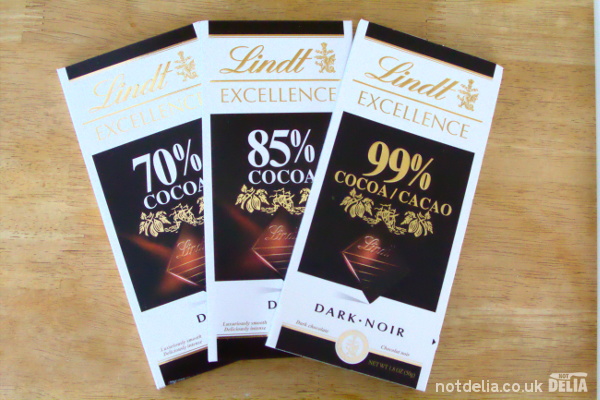 A while ago when browsing through one of our larger local supermarkets, my eye was caught by three rather attractive-looking chocolate bars from Swiss luxury chocolate makers Lindt. Labelled "Excellence", they offered the chance to sample plain dark chocolate with three different (and high) levels of cocoa content – 70%, 85% and an amazing 99%! I couldn't resist the chance of finding out more, so I bought them.
The 70% and 85% bars both have silver foil wrappers. The 99% bar comes in a plastic tray with a gold foil peel-back lid, with tasting advice on the wrapper.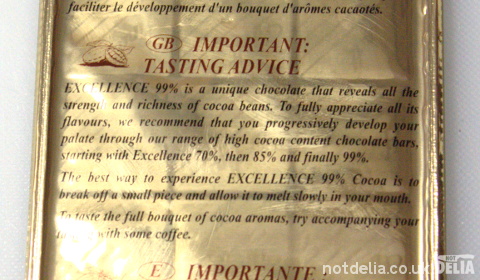 As you see, they suggest that a cup of coffee enhances the experience. So I set Mr Not Delia to work on his machine to make us some espresso, while I unwrapped the chocolate a little further.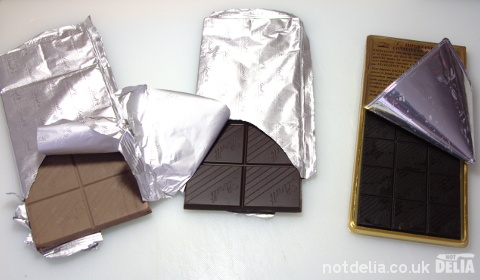 The 70% bar is quite a bit lighter than the other two in colour. Unfortunately it also appeared to have developed a little bit of bloom in storage. (I did say I'd bought them a while ago.) But bloom is perfectly harmless and doesn't affect the taste of the chocolate, so we went ahead with the tasting.
First of all, I gave them all a good sniff. The 70% and 85% bars both smelt fairly strongly of cocoa, but the aroma from the 99% one was considerably stronger. Next for the tasting itself.
The 70% bar was everything you'd expect of a decent bar of dark chocolate. It was well balanced, with enough sweetness to take away the edge of the chocolate bitterness. It was fairly brittle too – the pieces snapped off quite sharply.
The 85% bar was considerably less sweet and quite a bit more bitter. The texture was slightly less brittle, though, and although it still melted in the mouth it was a bit drier.
The 99% bar was very strange indeed. It was very dry in the mouth, and very bitter, with no evidence of sweetness at all. Although it was the least brittle of the three it was quite gritty in texture, with little fragments of cocoa bean in evidence. Unsurprisingly the size of the pieces was a good deal smaller than the other two – it would be quite a challenge to fight your way through a large piece.
It was an interesting experience. Neither of us are big chocolate eaters, and we wouldn't rush back to buy another 99% bar – if I'd been given it in a blind tasting without being told what it was, I would have struggled to identify it as chocolate. The 85% bar was OK but, to be honest, I wouldn't pay the extra for it again because I was quite happy with the 70% bar.