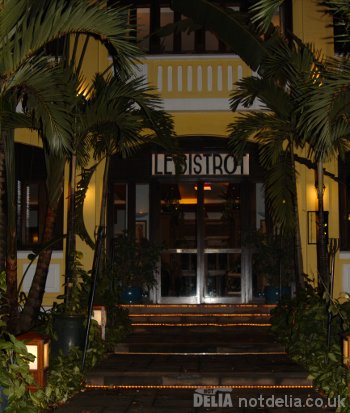 Victoria Angkor Resort and Spa Hotel
Sivatha Road
Siem Reap
Le Bistrot was named by Condé Nast Traveller magazine as "the best French restaurant in town".  When deciding where to go for dinner this was high up on my wish list, so off we went.
Our first impression was that it looked gorgeous – really upmarket. There was a really very, very pleasant atmosphere. They have seating inside and out and the staff were a little bit taken aback because we wanted to sit outside. They tried to dissuade us – "Oh, rain, mosquitoes…" It was quite clear that they didn't want us to sit outside, but we were quite clear that we did want to sit outside. (In fairness to the staff, it had been raining earlier on in the day so there was a certain amount of wiping down tables and lighting mosquito coils that had to be done, and stuff like that.) There was no-one else outside but us, which was fine because we could do our own thing, take photos, etc, without having to consider other diners. 
We were very comfortable outside anyway in the quiet and pleasant garden. The temperature was absolutely fine; neither hot nor cold. At a guess it was probably about 26-27° Celsius. If you prefer a cooler environment, you can sit in the air-conditioned area indoors. There were four outside tables and we had the one nearest the inside.
Now for the food.
After being seated and choosing the wine, we were brought a complimentary amuse-bouche which was a nice touch and set the scene for what was to come. They had a nice variety of bread on offer, too.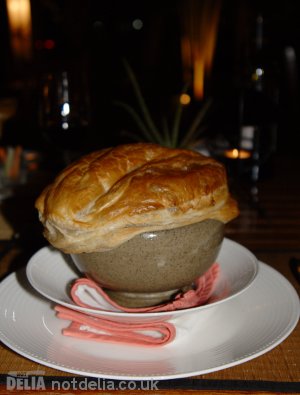 The appetisers – this is very funny, especially when you think about portion control!
I ordered the French onion soup because Le Bistrot is supposed to be the best French restaurant in Siem Reap and I wanted to see their take on this French classic dish. My soup – which was my starter, remember – was huge! When it arrived it looked like a great big steak and kidney pie! It was massive! Admittedly I have a smallish appetite but in my opinion it was far too big for a starter. Perhaps they could offer the choice of small or large portions to keep everyone happy.
The soup was very good – I don't know how it was made, but I would think a lot of beef stock with red wine, and a great lid of flaky pastry – I suspect packet pastry and not home-made, because, like industrial pastry, it didn't have the buttery taste of home-made pastry.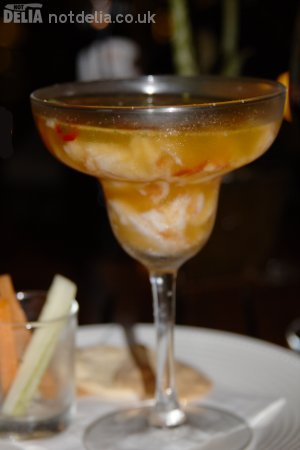 And Mr ND had a funny little thing that looked like a small margarita.  It was actually a prawn ceviche, served in a margarita glass, in a nice lemony liquid. Very refreshing. The prawns were cleaned; in fact they were halved down the middle for the most part. And it was a nice light starter which doesn't fill you up at all, which is just as well given that Mr ND had to struggle through most of a very large onion soup as well. (He agreed that it really was very hearty indeed, very rich and very tasty.)
All in all, we were impressed with the quality and presentation of the starters. And now, on to the mains.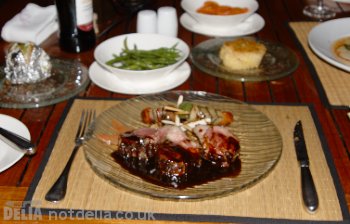 Mr ND ordered the rack of lamb, which he asked to be done pink, and it arrived pink and beautifully tender. It was very tasty and came with a bed of mushrooms and a couple of skewers of peppers and onions and tomatoes. The presentation was very attractive, and the chops were done to perfection. 
Side dishes were listed separately on the menu and turned up as separate side dishes rather than on the same plate as the mains. Mr ND ordered the green beans, and pommes dauphinoises, as side dishes, although there was some confusion over the order and he actually ended up with a baked potato, which Mr ND was quite happy to accept because he'd been considering having a baked potato anyway. Both the baked spud and the beans were done very nicely.
I ordered carrots and dauphinoises on the side. The carrots were soft and salty, while the dauphinoises was nice but nothing to go into raptures about.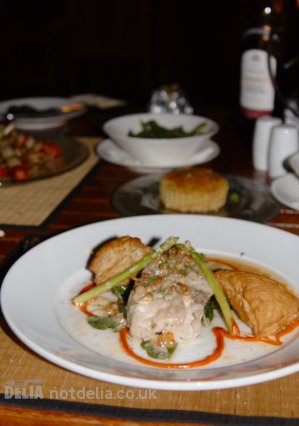 And… for my main course I ordered the red snapper.
I think the chef must have made the assumption that because we had started eating our starter, "Oh, right – five minutes and they will be ready." Well, sorry, but that's not how we eat. We first of all take photographs, we discuss the food, and then we eat it at our leisure. So maybe it will take us half-an-hour to eat something, even if it's only a starter.
Anyway, however much later after ordering – I'm not sure how long, but it probably was over half-an-hour – our main courses were brought out. Mr ND's was pretty good, as mentioned above, but my fish was like a bloody breeze block! I simply could not make any kind of impression on it with the fish knife, so I borrowed Mr ND's steak knife – and I couldn't even cut it with that. It was dry and tough.
So I said to one of the waiting staff, "This is not acceptable." They said they would get the supervisor, which they did, and the supervisor was perfectly friendly and understood the problem. I said, "Well, here is the steak knife, and here is the fork – you try to cut it." He declined, but he could see quite clearly that it wasn't easy to cut. So he offered an alternative of salmon instead, and I suggested that the chef should not overcook it because fish is always better just a little bit underdone, it'll always cook with the residual heat by itself on the plate.
The fish was returned to the kitchen and the supervisor came out again, apologised, and said we were quite right. The chef had started cooking my fish as soon as he'd received the order and had been keeping it warm all that time.
Some time later – and I didn't mind waiting, because things have to be cooked properly, you can't just throw them in the microwave for a minute –  they came back with the salmon, and yes, it was cooked just fine, perhaps a little bit more than I would cook it myself at home. But I've found that's it's not unusual to get fish which has been cooked a wee bit too much – perhaps most customers like it that way. I would say that it was acceptable, and nicely done for most people, I think it was pretty good. The carrots that accompanied the salmon, unlike the earlier side order, weren't salty and had enough bite to them.
The staff were friendly and efficient. If we had any problem whatsoever with the staff, it's that they're maybe just a little bit too keen to please, but you can't fault them for that. The wine was very nice. It was a very pleasant environment. Overall  we were  pretty happy with it.  It's just that they need a little bit more communication between front-of house and kitchen so the chef doesn't start cooking things too soon.
Despite the mistakes, some of the food was very good indeed and we had a very enjoyable evening out.  Sadly, it only scored 3½ out of 5 this time. Maybe they'll do better next time – there's a fairly good chance we would go back.