Hummingbird Egg by Artisan du Chocolat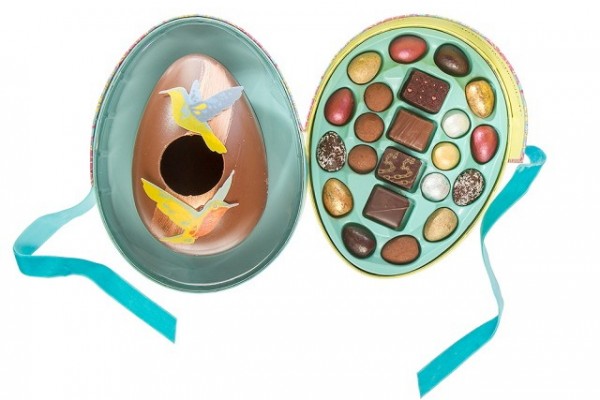 Easter wouldn't be Easter without the traditional chocolate egg, would it? So it's no surprise to find that Artisan du Chocolat have several mouth-watering variants on the theme in their "As Above, So Below" seasonal selection. There's the Kaleidoscope Egg, covered in hundreds and thousands of – well, not exactly hundreds and thousands, but rather more classy sugar drops. And there's the Rainbow Egg, a surreally coloured egg that looks as if it might be ready to hatch a phoenix, a dragon or some other mythical beast. But today we're tasting the Hummingbird Egg.
Here's what Artisan du Chocolat have to say about it:
Hummingbirds consume more than their own weight in nectar each day and to do so they must visit hundreds of flowers daily. Their exotic colours and insatiable appetites inspired us to create a chocolate haven for our edible birds to rest upon and find an array of fine chocolates from our couture ganaches to our signature chocolates and our selection of mini eggs including milk and dark ganaches, creamy dulce de leche ganaches, salted caramels, fruit coulis and pralines.

This season our eggs are moulded in Ecuador dark or dulce de leche milk chocolate bird houses for a flock of exotic edible hummingbirds nestled on a layer of assorted ganaches, pearls, caramels and mini eggs. Beautifully and deliciously crafted to make your heart flutter as rapidly as the wings of hummingbirds.






The tasting
First we carefully removed the edible hummingbirds which adorned the egg. These turned out to be made of rice paper (we think). They were a feast for the eyes: in other words, they looked more attractive than they tasted. But they were very pretty ornaments and added an interesting and colourful garnish to the egg, as did the broad brush-stroke of edible gold paint.
Next, we tackled the chocolate shell. We had the dark chocolate egg to taste, and found the dark Ecuador chocolate delicious with a well-rounded flavour and perfectly balanced bitterness. Excellent!
Having removed the egg from its nestling place, we then swung back the top layer to reveal a delightful assortment of chocs below. These consisted of a variety of Artisan du Chocolat's finest confections, including mini eggs, chocolate pearls, and – my personal favourite – salted caramels.
There was no chocolate menu inside the box, and although we had the Artisan du Chocolat catalogue to hand (it had accompanied the egg's delivery), we couldn't quite relate our exact chocolates to the ones in the catalogue. Thus it was a case of "try it and see" and then guessing what the filling was. Some were very easy to identify, like salted caramel (of course) or dark chocolate ganache.
Others included a dark chocolate egg containing a fruit coulis so tart it made both of us sit up and take notice; we're guessing that was yuzu, the Japanese citrus fruit. A world away from any fruit-filled chocolate we'd ever tasted before, but surprisingly good if you like that sort of thing. (It reminded me of marmalade. Mr Not Delia's a fan; I'm not.) Another was a white-speckled, dark chocolate egg which seemed to be an intriguing cross between coconut on the outside and a almond-flavoured paste (gianduja, perhaps?) on the inside. Quite sugary, but delicious. And then there was yet another dark chocolate ganache egg – except this one seemed to have hints of raspberry lurking underneath, just tantalisingly on the borderline of our taste buds' perception. Mmm, raspberry.
At £24.99 RRP, it's not an Easter egg for pigging out on. But, to be honest, it's so overwhelmingly chocolatey that if you tried to eat it all in one you probably wouldn't survive the endorphin rush. If you're going to buy just one Easter egg for yourself this year, make it this one!

Artisan du Chocolat: Hummingbird Egg
Or you can find Artisan du Chocolat's full Easter collection here.
And don't forget to order soon to be in time for Easter!