Crème de la Crème eggs by Artisan du Chocolat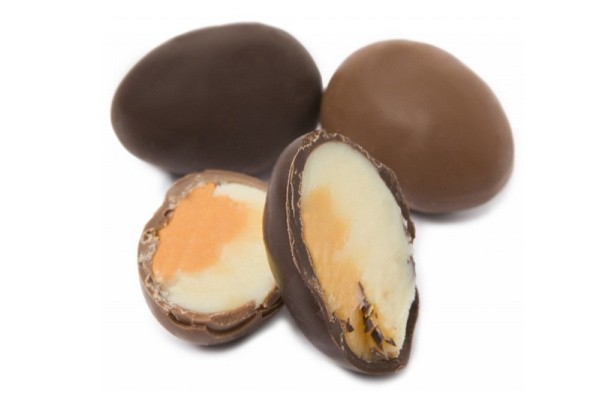 As I wrote earlier, the Cadbury Creme Egg is no longer what it was once cracked up to be, leaving customers shell-shocked and eggsasperated about the Americanisation of the once popular egg.
 How can we get a creme egg fix now?
There are at least two alternatives. You can try to make your own—after all, it's just a chocolate case containing some kind of fondant filling. But if that seems like too much faff, you can look elsewhere.
Artisan du Chocolat does a superb version, and now might be the time to try it since what may have been your old favourite is no longer available.  I decided to try it along with Mr Not Delia. Here's how we got on. First here's what Artisan du Chocolat say about their eggs.
Our Crème de la Crème eggs are a cult artisan classic for Easter. Inspired by a certain commercial egg that was the nation's favourite till it was recently tampered with, our creme eggs contain fresh infused ganaches with vanilla pods, apricot and clementine and passion fruit rather than super sweet sugar fondant.

We first infuse cream and white chocolate with fruit or flowers to create the soft yolks, surround them by a vanilla white chocolate ganache and coat each egg twice in luscious milk or intense dark chocolate. It is a labour of love but well worth the effort to put a smile on the many faces coming back year after year for these.
There are two types of Crème de la Crème eggs. First, there's the dark chocolate one with a "yolk" of apricot and clementine. Then there's the milk chocolate one with passion fruit filling.
The tasting
The team was mostly keen to try the dark chocolate egg on the basis of expecting a more "grown up" taste, less like the old childhood favourite we all knew. This may have been the wrong move, as my personal favourite of the two was the milk chocolate egg. This was partly because of the balance of the sweeter chocolate and its ganache filling but mostly because when I got to the passion fruit flavour of the "yolk" it was a delightful surprise. The flavour was so clean and fresh, and altogether surprising.
The dark chocolate egg, with apricot and clementine, was excellent too. Again, a very fresh taste, with a perfect blend of fruitiness and vanilla creaminess together with the gorgeous Artisan du Chocolat dark chocolate. Mr ND can be a bit finicky about apricot, but he loved this—so much so that he found it impossible to choose between them and claimed his choice of favourite would depend on how the mood took him at the time.
But I definitely felt more passionate about the passion fruit.
If you'd like to sample a little luxury without extravagance this Easter, it's just RRP £9.99 for the 120 g version, which contains six magnificent cream eggs.

Artisan du Chocolat: Crème de la Crème eggs
Or you can find Artisan du Chocolat's full Easter collection here.