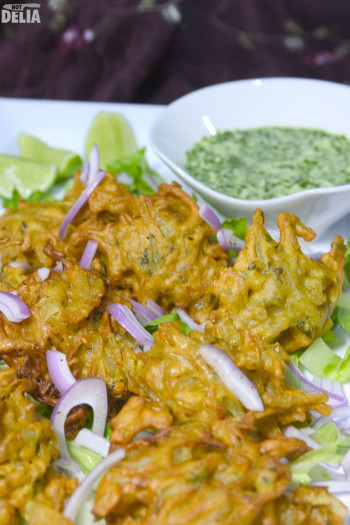 This is a quick and easy, tasty snack which can be served on its own, or as part of an Indian meal, or along with other tapas dishes. I normally just make it without measuring anything but this time I tried to create a recipe. Give it a try as you'll save heaps of money by making your own at home rather than buying from a supermarket or take away.
Ingredients for two servings
(the photos of the finished bhajis show one serving)
2 medium sized onions, peeled, washed and thinly sliced
4 oz (115 g) gram flour
1 tsp garam masala
1 tsp turmeric
2 tsp salt
2 cloves garlic, finely chopped
1 tbsp finely chopped coriander
water for mixing
oil for deep frying
Method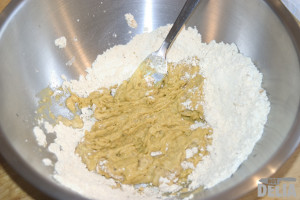 Put the all the dry ingredients into a mixing bowl and add enough cold water to make a stiff batter. (I found it easiest to use a fork to do this and only added the water little by little. Remember, it's supposed to be a stiff batter so don't go slopping in too much water.)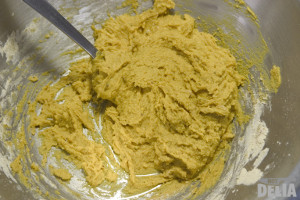 Then add in the onions, garlic and coriander. (I found it easier to switch to a wooden spoon for this task.)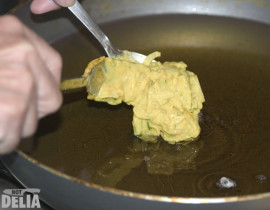 Heat the oil in a wok (if you don't have a wok, use a frying pan or other suitable pan). Get the oil really hot before adding your bhaji mix. You can test it with a teaspoon of bhaji mix – this also gives you a chance to check your seasoning before frying up the whole batch.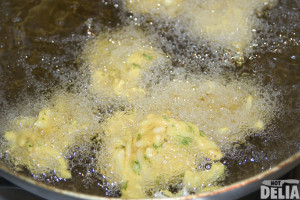 Next drop tablespoon-sized dollops of the mixture into the hot oil.
Fry for a few minutes until they're done.
Remove from the oil with a slotted spoon and drain on kitchen paper.
To serve
Bhajis are often served with a green salad and a mint and yoghurt sauce.
I served mine on a bed of shredded cos lettuce topped with thinly sliced red onions, sprinkled with chilli powder, and with a generous squeeze of lime. I served a coriander and coconut dip to accompany them. Perhaps we can do some Not Delia dip recipes later.