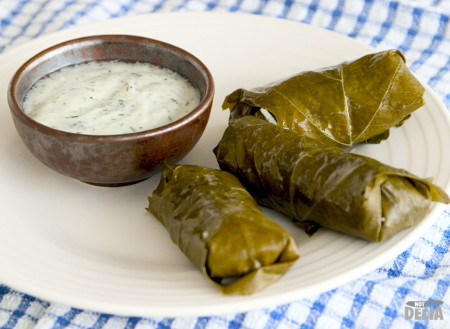 Dolmades are vine leaves stuffed with rice, nuts, and various other things if you feel so inclined. I kept mine simple with only the ingredients from the recipe below.
I love these things but Mr ND doesn't like them so I don't get them very often. Despite that, I decided to treat myself. As usual, I didn't follow any recipe but just did my own thing. I was using vine leaves imported from California and they seemed to be bigger and tougher than the usual Greek ones, but that made them easier to work with. Also, I didn't have chives or fresh mint so I just used a couple of teaspoonfuls of mint sauce. It tasted fine. I didn't fancy simmering them either in case they broke up, so I steamed them instead.
Dolmades make a nice little tapas dish. I served them with a small bowl of yoghurt and mint dip, alongside a Greek salad, hummus, Kalamata olives and some flat bread. Very nice!
For those of you who prefer proper recipes, here's a nice one I found in The Inspired Vegetarian by Christine Ingram.
Ingredients
20-30 fresh young vine leaves
30 ml/2 tbsp olive oil
1 large onion, finely chopped
1 garlic clove, crushed
225 g/8 oz cooked long-grain rice, or mixed white and wild rice
about 45 ml/3 tbsp pine nuts
15 ml/1 tbsp flaked almonds
40 g/1½ oz sultanas
15 ml/1 tbsp snipped chives
15 ml/1 tbsp finely chopped fresh mint
juice of half a lemon
150 ml/¼ pt/⅔ cup white wine
hot vegetable stock
salt and freshly ground black pepper
spring of mint, to garnish
Greek yoghurt, to serve
Method
Bring a large pan of water to the boil and cook the vine leaves for about 2-3 minutes. They will darken and go limp after about 1 minute and simmering for a further minute or so ensures they are pliable. If using leaves from a packet, place them in a large bowl, cover with boiling water and leave for a few minutes until the leaves can be easily separated. Rinse them under cold water and drain on kitchen paper.
Heat the oil in a small frying pan and fry the onion and garlic for 3-4 minutes over a gentle heat until soft.
Spoon the onion and garlic mixture into a bowl and add the cooked rice.
Stir in 30 ml/2 tbsp of the pine nuts, the almonds, sultanas, chives, mint, lemon juice and seasoning and mix well.
Lay a vine leaf on a clean work surface, veined side uppermost. Place a spoonful of filling near the stem, fold the lower part of the leaf over it and roll up, folding in the sides as you go. Continue stuffing the vine leaves in the same way.
Line the base of a deep frying pan with four large vine leaves. Place the stuffed vine leaves close together in the pan, seam side down, in a single layer.
Add the wine and enough stock to just cover the vine leaves. Place a plate directly over the leaves, then cover and simmer gently for 30 minutes, checking to make sure the pan does not boil dry.
Chill the vine leaves, then serve garnished with the remaining pine nuts, a sprig of mint and a little yoghurt.
The Inspired Vegetarian
Creative ideas for natural, healthy eating
Christine Ingram
Paperback, 96 pages
1998, Sebastian Kelly
ISBN 1-84081-034-3