Chicken casserole with dumplings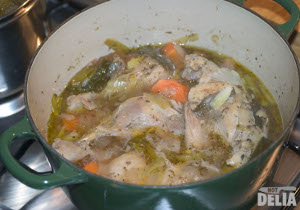 I was looking through Gordon Ramsay's Kitchen Heaven book for inspiration when I found one of these pictures that really makes you want to make the thing.
It was his poached chicken legs with herb dumplings and turnips (page 152). Despite it being by Gordon Ramsay, this is a really easy recipe for chicken and dumplings and just the sort of thing that's perfect when you're needing winter comfort food.
Ingredients
(serves 4)
Sea salt and freshly ground black pepper
4 large chicken legs
3 large carrots, peeled
2 medium onions, peeled
2 sticks of celery, peeled
3 large turnips, peeled
2 cloves of garlic, peeled
a sprig of fresh thyme
2-3 sprigs of fresh parsley
1 star anise
1 bay leaf
1 litre good chicken stock or water
Method
Season the chicken legs and place them in a large pan. Chop the vegetables into large pieces and add to the chicken. Cut the garlic cloves in half and add to the pan along with the thyme, parsley sprigs, star anise and the bay leaf. Add enough chicken stock or water to just cover the chicken and vegetables. Put the pan on a medium heat and simmer gently, uncovered, for about 1 hour, skimming the liquid when necessary to achieve a good clear broth.
I pretty much followed the recipe – you can see the result from my photo above. I didn't just use chicken legs, though, I used four thighs with the drumsticks still attached. I didn't have celery or turnips so I just omitted them. And I forgot that he said to leave the pan uncovered, so I covered mine. It all worked out fine, though, as you can see.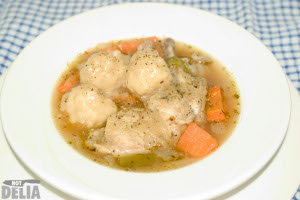 I agreed that dumplings would be terrific with this dish so that's exactly what I did, as you can see from the photo. Here's my recipe for dumplings with and without suet.
By the way, Gordon Ramsay recommends cooking the dumplings in water or chicken stock in a separate pan. That's not at all a bad idea if you're worried that your dumplings might break up and spoil your nice clear broth.